September 2016 | View this story as a .pdf
The Italian Job
The mission: Create a ristorante raffinato in a former waterfront warehouse. Check.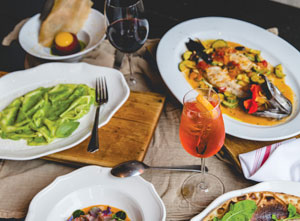 Sliding into Solo Italiano early on a weeknight, we're lucky to secure a table amid the bustle. Delicious portents–diners obviously adore this place! The jovial atmosphere makes the vast room feel less cavernous and more intimate, helped by the presence of the attractive new raw bar that juts into the dining area.
Watching the skilled crudo chefs at work  is all the encouragement we need to order the Carpaccio di Capesante ($12), thin-sliced local scallops basking in basil oil and tomato coulis, topped with a dusting of fennel pollen. The taste is fresh, luxurious, and downright unique. We follow with Antipasti, an Italian farm board with robiola cheese, coppa, sopressata, speck, finocchiona, salami di tartufo, wild boar, rabbit liver pate, and guanciale. We'd return for this plate again and again but for the menu changing almost daily. Next, we try Vitello Tonnato ($14), braised veal bathed in velvety tomato sauce (made with tuna, though you'd never guess), paired with baby kale, extra virgin olive oil, and sea salt. The meat is as tender as it gets. You won't want to miss out on the fresh house-made pastas or the prize-winning pesto–a recipe made in collaboration with Paolo Laboa, winner of the World Pesto Championship. We pair both of these by ordering the Pansotti alle Noci ($18), meaty tortellini stuffed with ricotta, walnuts, spinach, chard, kale, and borage, and topped with a spell-binding walnut pesto.
The enjoyment doesn't end with the main course (treats on the drinks menu include the Vesper, a concoction of gin, vodka, and kina, $12). For dessert we choose Baci Di Dama, "lady's kisses." These delicate hazelnut cookies jolted by a layer of dark chocolate are a fitting ending to a delightful repast. Grazie Solo Italiano–may your reign on 100 Commercial Street be long! 
Solo Italiano, 100 Commercial Street, Portland.
Monday through Sunday, 5 p.m. to 10 p.m. Visit
soloitalianorestaurant.com, 780-0227.