Perspectives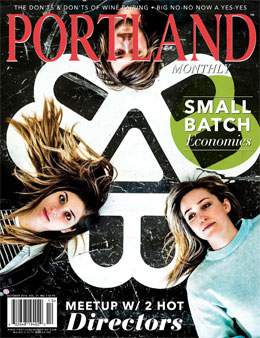 10 From the Editor
12 Letters

33 Vital Statistics
Portland's magic numbers show a city in evolution.
From Staff & Wire Reports
39 When?
What cultural tipping points turned Portland around to give us international cachet?
By Jamie Holt
45 Dark Horses, Shooting Stars
There's magic outside the strictures of a list.
Interview with Evan Livada by Colin W. Sargent
74 Brew Masters of the Universe Punk beer rules.
By Olivia Gunn
89 L'Esprit de l'Escalier
"Crossing the Divide"
By Rhea Côté Robbins
104 Flash
Food&Drink
77 Hungry Eye
Harvest bounties bring fresh delights from farm to fork.
By Claire Z. Cramer
87 Everyday Sommelier "Tell Me You Didn't"
Odd couplings that should never happen.
By Ralph Hersom
90 Dining Guide
91 Restaurant Review
Red Sea–a stunning voyage to Ethiopia via Washington Avenue.
By Diane Hudson
Shelter&Design
93 House of the Month
Cliff dwelling on the Western Prom befitting a postcard king.
By Colin W. Sargent
95 New England Homes & Living
Maine Life
15 Maine Classics
17 Experience
27 Chowder
29 Portland After Dark:
"Mixing Business with
Pleasure" Another taboo bites the dust. And we show you where.
By Karen Hofreiter
83 The Gift List
The locally crafted must-haves you'll soon be coveting.
From Staff & Wire Reports
Personalities
51 What Brings Us Here?
New residents share the journeys that brought them to Portland.
By Sarah Moore
Featuring: "Where New Yorkers
Go To Be Happy," in the words of graphic designer Kate Howe.

Art&Style
65 Maine On Screen
Maris Curran, writer/director of Five Nights in Maine, takes us behind-the-lens. CUT TO: Jared Martin's and Robert Mrazek's windswept tale of Monhegan Island, The Congressman.
By Colin W. Sargent
101 Fiction
"St. Anthony's"
By Greg Brown