November 2016 | view this story as a .pdf
M.C. Perkins pairs tableside Atlantic vistas with gourmet excitement at Perkins Cove.
by Diane Hudson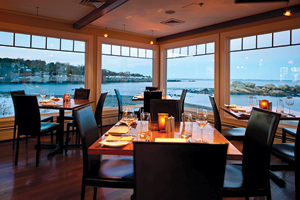 We savor the colors of the setting sun over Perkins Cove in Oqunquit from our table in M.C. Perkins, hailed by USA Today as one of the "Top ten places in the world with a view." We begin with Prosciutto di Parma ($17), delivered to the table by co-chef/owner and James Beard Award winner Clark Frasier. The saltiness of the meat is delicately balanced with the sweetness of caramelized pears, tangy orange syrup, and a handful of fresh mint leaves. On Frasier's recommendation, we also opt for the Maine mussels dish ($15.50). Garlic, fire-roasted red onions, and fried shallots mingle with the fresh shellfish in a velvety cream broth. The accompanying basket of home-baked bread proves ideal for dipping into the rich soup. We'll return here for this dish alone.
The drinks list is extensive and varied. A Tom Collins cocktail tempts, but we choose a pour of the ubiquitous Baxter Stowaway IPA ($6) and a glass of Chalone California Chardonnay ($11). The duck confit with fragrant jasmine rice ($33) leaps from the entrée list. We are not disappointed. The duck arrives smothered in a rich, dark gravy. Bing cherries add a sharp sweetness to the sauce that proves a perfect match to the meat. My partner selects the slow-braised lamb osso bucco ($28) drizzled with basil pesto and fresh gazpacho. The meat is cooked to a melt-in-the-mouth tenderness that is perfectly complemented by the zesty sauce. We linger over the array of wickedly indulgent sides entitled "Evil Carbos," lusting after the onion rings, corn custard, French fries, jasmine rice, and Cheddar cheese mashed potato. Instead, we opt for sautéed spinach and garlic from the "Virtuous Vegetables" list ($8.50 each).
We finish by plunging our spoons into a raspberry trifle ($9.50) with crème de cassis and raspberry whipped cream as darkness deepens over the sea. A fitting finale to a memorable dining experience.
M.C. Perkins, 111 Perkins Cove Road, Ogunquit. Mon. to Sun. 11:30 a.m.-9 p.m. 646-6263. markandclarkrestaurants.com