December 2016 | view this story as a .pdf
French Twist, Part Deux
Petite Jacqueline experiences a renaissance in the Old Port.
Review by Diane Hudson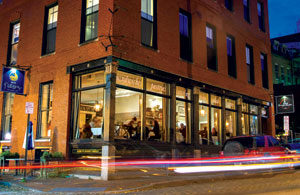 We arrive at Petite Jacqueline's new location on Market Street on a Wednesday evening, a happy accident as this is the one night of the week when Petite Jacqueline offers oysters on the half shell for just $1.50 each. Big and succulent, the Damariscotta beauties are an early holiday treat. Happy hour is an added bonus (5-6 p.m. at the bar), so we begin the meal with a classic martini ($5) and a hoppy pour of Maine Beer Company's Lunch IPA ($4).
Unable to resist authentic French fare on offer, we order the escargots as an appetizer to share. The snails do not come in their shells (a small disappointment soon forgotten) but instead bathe in a buttery garlic and basil concoction filled with tasty button mushrooms. Baked here (and replenished often by our attentive server), the bread is a traditional French baguette, perfect for dipping in the herbed
butter sauce.
Nostalgically, we also select French onion soup ($10). Topped with a crusty crostini and Gruyère cheese, this French classic is more subtly flavored than many we've come across.
The entree list requires some serious consideration. My partner deliberates over the "French Attitude" burger with Gruyère, caramelized onion, and house aioli ($15 or $17 with fries) before settling on the Poisson Meunière en Papillote ($24). Baked and served in parchment, the delicate flavor of the white fish is accented by zippy capers and creamy melted butter. Green beans and tiny potatoes are served on the side along with a small bowl of Meunière sauce–meaning "miller's wife"–made from brown butter, parsley, and lemon.
Who can resist boeuf bourguignon (pictured, $26) at a French bistro? Filled to the brim with perfectly cooked beef, this dish boasts deep, authentic flavors and pleasingly fatty pieces of meat. This is the real deal, decadent and comforting on a cold winter evening with its rich, smoky gravy made from bacon lardons and attentive braising. Sweet and tender, the firm, colorful vegetables include carrots, baby onions, potatoes, celery, and button mushrooms. Formidable!
We finish with a perfectly executed crème brûlée. Longfellow Square's loss is the Old Port's gain. Petite Jacqueline triumphs anew as a moveable feast. n
Petite Jacqueline, 46 Market St., Portland. Open  seven days from 11:30 a.m. to close, 553-7044, bistropj.com