Winterguide 2017 | view this story as a .pdf
What's cooking in 2017? We take a glimpse at the events, eateries, and exciting epicurean trends on Maine's horizon.
Stories by Sarah Moore, Bailey O'Brien, Kate Odden & Willis Kuelthau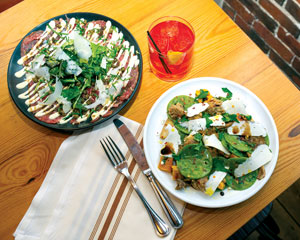 For a city where much of the action crystallizes on a peninsula, there's only so much space available to us. So when a new restaurant surfaces on the radar, it's often inhabiting the space of an earlier incarnation of the food scene. Rather like a game of musical chairs, Portland's eateries are shifting: chefs circulate, new owners acquire old favorites (see Caiola's in Restaurant Review, page 63), and stunning new concepts pop up in old spaces. It may take time before a shiny new spot shakes the ghost of its predecessor. "The Honey Paw–you know, where the Pepperclub was."
The new year promises many fresh delights. Wunderkind chef Cara Stadler of Bao Bao and Tao Yuan in Brunswick has announced she will open Lio, a restaurant with an accompanying wine shop in 6 City Center (the home of soon-to-depart Styxx nightclub) with sommelier Chris Peterman. The former Borealis Bakery & Bistro on Ocean Avenue was recently transformed into the Neapolitan-themed Tipo, the brainchild of a power pairing between the Goulds of small-plate-mecca Central Provisions and former Scales chef Mike Smith.
Old favorites have returned in the form of Brea Lu Cafe, now supplying Westbrook with its signature supersized pancakes stacks, while Portlanders were relieved to see the return of El Rayo to Free Street in the former site of Papier Gourmet. Other restaurants transforming retail spaces to food service include Sichuan Kitchen, which will bring Chinese cuisine to the Congress Street site occupied by Anna's Used Furniture & Collectibles for many years–surely the most dramatic makeover of the year. On Fore Street, the Carla Bella Boutique has become Baristas and Bites, a high-end cafe and patisserie with a to-go lunch service. Lowell Designs on Exchange Street is currently under construction to become a speakeasy-style cocktail joint named Proper Charlie's. And over on the West End, Vespucci's variety shop will soon be supplanted by Little Giant, a combination bar and premium corner store from the owners of Hunt + Alpine Club.
Arrested Development
Meanwhile, we wait to discover the fate of David Levi's Rossobianco, open just four months before an indefinite closure halted our small-plate indulgence. According to the Facebook page, Rossobianco is "restructuring and will reopen in the new year." Since bidding a sad farewell to Petite Jacqueline's reign on Longfellow Square (they're now at 46 Market Street), we've been watching in anticipation for the forces behind OTTO to establish their long-awaited flagship burrito joint Ocho at this prize piece of Portland real estate, 190 State Street. Don't hold your breath–Mike Keon and Anthony Allen confirm they have no plans to pursue the project in 2017. "We've decided to stay focused on OTTO. There won't be any new openings this year." Ditto for the joint venture with Hero sandwiches, which folded in August after five months of business. "It didn't work out. We're walking away from the Hero brand." This leaves a question mark over the pair's three empty locations (Monument Square, Longfellow Square, and Congress Street). "We're paying rent on empty spaces right now. It's something we'll have to figure out. It may be that we rent these spaces out to someone else."
Big Plans for Big Tree
It feels like we've been waiting for ages to welcome Baharat–the Middle-Eastern-style eatery from the owners of CN Shawarma food truck–to Washington Avenue, but that could just be our hunger for its arrival. On the same street, Pho restaurant Cong Tu Bot promises to be a fixture of our new year. In Westbrook, Big Fin Poké is set to take over the space previously inhabited by the Dancing Elephant Indian Restaurant. The healthy counter service eatery will offer poké bowls–the Hawaiian tuna dish much hyped in California. Think of it as the new sushi.
Talk about on the move. John Myers, beverage director of starry Eventide Oyster Co., recently let slip that "You definitely busted me on my nonchalance regarding the Boston trip…I am so excited for the future of Eventide and the Boston project." Owners Mike Wiley, Andrew Taylor, and Arlin Smith of Big Tree Hospitality are taking their successful oyster-bar franchise down to Beantown, where they're opening Eventide Fenway on Boylston Street in 2017. The Press Herald quotes Wiley: "It's less seasonal down there." Ouch. Seems like this chic neighborhood can't resist adopting its own 'Maine' flavor. Hope it doesn't go the same way as the already-closed M.C. Spiedo, another brave attempt by legendary Maine restaurateurs to expand into Boston.
Four's the Charm
As recognizable on the restaurant scene as his signature dishes, Jason Loring shows no sign of slowing his foodie reign in 2017.
Last year was a big one for you. The Fifth Food Group opened two new spots (Rhum & Grog and Big J's Chicken), effectively doubling your restaurant real estate.
It was an extremely busy year. I was doing things at a pace I'd never done before. Mike [Frazer of Bramhall Pub] and I had been working on Rhum for about a year, but Big J's was born out of necessity. Chris [Thompson] and Jeb [Troubh] saw the potential for a small food slot in the space below the Cryptozoology Museum next to Bissell Bros., so we decided to go for it. It could have been as simple as a coffee shop, but that's not really what I'm into!
What's on the horizon for 2017?
Thompson and Troubh have big plans for Thompson's Point. We're going to be working together to develop the Brick South building into a big events space with a functioning kitchen and bar and even a wholesale bakery. I'm consulting and helping to plan out the food side of things. The Point is even bigger than the Old Port in terms of square-footage—and it has parking!
We caught you filming Off the Menu. Are you a TV star now?
A friend from Nosh put me in contact with Off The Menu, [whose] CEO is friends with [actress] Shay Mitchell (Pretty Little Liars), who was filming [Cadaver] in Boston. They came up to shoot for their YouTube channel, so I took them for back-to-back meals at Slab, Big J's, and Rhum. She totally stuffed her face. I didn't even know who Shay was when we met. She's cool as s**t. People started following us around town as soon as they spotted her. It was surreal.
Back on the Block
Those familiar with Figa, the Asian fusion attraction of the East End food scene which closed in 2013 after two years, will be stunned at the transformation of 249 Congress Street from cozy neighborhood eatery to a bright, modern bistro with a distinctly European aesthetic. Welcome to LB Kitchen. Vacant for three years, the original red brick walls are now painted a cool white, matching the extensive subway tiling along the counters and quirky accents on the wooden furniture. "The interior came to me in a dream back in 2007. I know, I know–that sounds weird," says Lee Farrington, looking relaxed as she moves around the open-plan kitchen, its layout unchanged since the days of Figa. The chef isn't going it alone this time. LB stands for Lee and Bryna, life and business partners. Bryna Gootkind also works for an organic super food brand.
"LB Kitchen is our shared vision," Goodkind says. "It's something we talked about for over a year," says Gootkind. "The menu concept is based around functional food–it tastes good and each component does you good. I'm the one who is full of ideas and weird food information. Lee is the magician who pulls it together." One such example of this dynamic is the bone broth ($7), served to-go in paper cups like coffee. The salty, tasty broth is packed with healthy fats and protein, although "It took Lee a while to get on board with the idea," admits Bryna.
The star of the menu is surely the LB Bowls (crafted by local ceramicist Amanda Cimino), heaped servings of grains and super foods galore. Figa evangelists will celebrate the reincarnation of Farrington's wild boar as an LB Bowl, along with coconut and red curry ("I was getting emails about that dish when I closed Figa," says Farrington. "It had to be included."). The menu is a mixture of both virtuous and sinful. The healthful bowls, featuring the label "Not Diet Food," are an enormous portion for $10. Farrington's fans who know her penchant for cake will not be disappointed. The Practically Famous Cake Slice ($4) is rich, chocolaty…and vegan. "I served it to Norah Jones before her show at State Theater," says Farrington. "She was like, 'there's no way this can be vegan!'"
The bistro will focus on breakfast and lunch servings, closing at 2 p.m. in an attempt to secure that elusive work/life balance for the couple, who have a young child. That being said, their excitement and ambition is palpable. "We're planning to do ticketed pop-up dinners a couple of times a month," says Gootkind. "We also see ourselves packaging and selling some of our ingredients, like the 'Cashew Crack' nut butter. And I'd love to see a few more locations in the local area in the future."
No Sign of Slowing
Just in case you were worried the momentum behind the Maine craft brewing movement could not sustain itself any longer, fear not. The coming year looks set to welcome even more openings and expansions by local brewers. In Maine, craft beer remains king.
East Bayside originals Bunker Brewing have made the journey south to a larger space in Libbytown. The 9,000-square-foot brewery and tasting room will be situated just a stone's throw from Bissell Brothers brewery…and the Cumberland County Jail. In its four years on Anderson Street, owners Chresten Sorenson and Jay Villani (of Salvage BBQ, Local 188, and Sonny's fame) saw East Bayside transform from industrial wasteland to one of the city's hottest new spots. Perhaps the move to Libbytown is a signal of things to come?
Joining the ranks of Foundation, Allagash, and Austin Street, Battery Steele will be the new kid on the block at One Industrial Way come February. Owners Shane Noble and Jake Condon cut their teeth working at Gritty McDuff's brew pubs over the years before deciding to go it alone. "We know we have to hit the pavement running," says Condon. "There are so many discerning palates around Portland. We grew up on farms in Aroostook County, so our goal is to use as many locally sourced and sustainably grown Maine-based products as possible. In the fall of 2017, our goal is to start using grains from a Maine farmer that were planted especially for us."
Over in Westbrook, joining the ranks of Mast Landing Brewing will be the affirmatively named Yes Brewing Co. on 609 Main Street, slated to open in April 2017. We quizzed owner John Bigelow on his decision to open outside of Portland. "Portland is absolutely saturated. [Westbrook] is just far enough away from the city that we get that little bit more notoriety…not to mention just that the town itself is phenomenal."
A casualty of the craft brewing boom, D.L. Geary Brewing Co., a.k.a. the one that started it all in 1983, has reportedly taken a cut in production due to decreased demand following stiff competition from its younger counterparts. According to statistics from the Bureau of Alcoholic Beverages, Geary's production went down by 34.5 percent between 2011 and 2015. Meanwhile, craft breweries made 113.8% more beer in 2015 than in 2011. As more breweries establish themselves in the state (59 in total, according to figures from Brewers Association in 2015) brewers are having to fight to slake the thirst of an increasingly competitive market. Multiple requests for comment have been rebuffed.