Winterguide 2017 | view this story as a .pdf
How can you have it all without it being all #toomuch?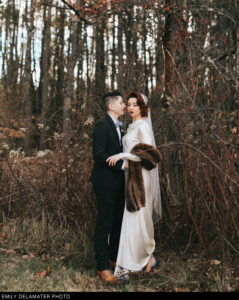 It starts with the Facebook post–a beaming couple, a sparkling rock, and the words, "We're Engaged!" Or, for those minimalist pairs, a subtle relationship status update will suffice, shocking the masses into praise and congratulations. But don't get comfortable yet, lovebirds. You've got a show to produce. From hashtags to Snapchats, there are decisions to be made, photos to be taken, and a dance to choreograph. Will your theme be boho-chic, vintage farm, or traditional–but not too traditional, because who wants to be traditional anymore? This isn't your Grandma's wedding, dear.
Before the Big Day
We were engaged for less than an hour before the logistics came to light. "Who do you want to film it?" asked my older sister, wedding alumna, summa cum laude class of 2013. "Film it? Is there a script?" Look, I've done some planning in the past, but coloring books and an Excel spreadsheet are two different realities. In the two months I've been wearing this ring, I can tell you planning Barbie's wedding was a hell of a lot more reasonable. The expectations have changed, and the ideas are endless. One look at Pinterest and I was overwhelmed to the point of planning paralysis.
My fiancé and I would like to spend as little as possible while still enjoying a party with our loved ones. But according to averages by the wedding planning site The Knot, a Maine wedding can run close to $30,000. Try suggesting that number to Portland-based wedding planner Laurie Andrews. "That's what our clients are spending on décor!" she laughs. Thirty thousand dollars for flowers, candle-filled mason jars, and an aisle runner? But, as Laurie explains, that's the reality. Though a great wedding at $30,000 is possible (along with paying off school loans and buying a new car), five to seven percent of "luxury weddings" weigh in at about $60,000, with one or two of her clients each year surpassing $200,000. "Brides and their guests want to have an experience. Going through all of the traditional [motions] is out. They want to be entertained, and for the day to be flowing." Laurie suggests a magician to entertain guest between moments (think he can pull that $30,000 out of his hat?) or offering a special hashtag for guests to share on Instagram.
In our case, a Liza Minnelli impersonator is out of the question because, in my mother's words, "This isn't art school anymore." But have no fear; your wedding jack-of-all-trades is here. Kevin Ouellette of Amazing DJ: Music, Sound, and Photography offers a "four-in-one wedding package." Starting at $5,500, he'll act as your wedding coordinator, photographer, DJ, and even throw in a photo booth.
"You're working with an audience that ranges from seven years old to 97 years old," says Kevin. "You need to give your audience members what they want so they can give you what you want."
Of course, your guests want to see the two of you commit to your lives together (with the exception of cousin Troy, who just wants free drinks). But with access to millions of videos, songs, articles, and conversations in our back pockets, Kevin says there is no need for competition.
"You go from bar to bar in the Old Port and have an entirely different experience every 25 minutes, so being in one or two places for five to six hours has become a challenge." When Kevin works a wedding, he makes sure to create an atmosphere that encourages engagement and energy. This isn't to say you can't keep things simple. Offer a cocktail hour with the right music that's sure to keep guests on their feet. Once they sit down, Kevin explains, the next thing they want is their meal. And most importantly, the couple needs to be accessible throughout the entire wedding. 
While the guidance of a wedding planner is convenient, how many couples can actually afford one? We certainly can't, and neither could Misty Coolidge. Planning her wedding in 2013, Misty dreamed of a barn venue but just couldn't afford it. Today, as the owner of Coolidge Family Farm, she makes an offer many couples can't refuse.
"Brides ask me if they can plan a wedding for $10,000, and I say, 'yes.' That was my budget when I got married." For that price, Misty offers an all-inclusive package covering the venue and farm house for three days, photography, a DJ, flowers, her day of coordination services, bar service, cake, and stationery design.
Food for Thought
Now you've got your venue and your DJ, but you're missing the caterer, and the last thing you want is cousin Troy dancing on an empty stomach, right? Today couples are rolling out the steak and salmon, revving up the experience, and wheeling in the food trucks. Jack Barber of Mainely Burgers says that since they started in 2012, they've been booked for at least 20 to 30 weddings.
"We're starting to see couples realizing they can get the same services as you get from a caterer, but the food is made to order." Instead of keeping guests seated at tables for two hours, let them take in the experience–let it add to the aesthetic. Erica Dionne of Muthah Truckah says the trend of having food trucks at weddings has "just exploded." Muthah Truckah's services typically start at $1,300 for 100 guests, allowing couples to design their own menus for the big day. "It really brings a fun, unique addition to the gathering, and it creates a relaxed and casual atmosphere."
Relaxed, casual? Our wedding is about ten months away, and I'm starting to see the light at the end of the floral, tea-light-candle-lit tunnel. Even so, after talking with several vendors and planners, it's clear that no one can answer questions quite like someone who has been through wedding planning hell and made it out the other side alive and married. Shana and Lexie Diamond delivered their vows on December 3rd, 2016, at The Barn at Flanagan Farm, and despite going over budget by about $10,000, forgetting the cake topper, and choosing not to have a DJ, they still managed to have the day they'd dreamed of since getting engaged.
"There's a lot of pressure for it to be the best day of your life," says Shana over a glass of red at MJ's Wine Bar, where much of their planning happened. "But the reality is, if you're there with the one you love, surrounded by all the people you love, it already is."
Shana and Lexie (pictured below) are still coming down from their big-day high, and while the photos of the night are still flooding in as proof it actually happened, Lexie says, "It was all a blur until about two days ago." Her advice to blushing brides feeling the pressure, be it from family, social norms, or themselves: "Take a breath, be present, and don't forget to drink water and eat." The two smile at one another as Shana squeezes Lexie's hand. Though I'm simply the outsider looking in, you could say I have a bit of a contact high.
Maybe the modern wedding has become more show than ceremony, but when you belong to a generation that has very little proof marriage actually works, it's no wonder we want to celebrate like mad when we find that one person to prove us wrong. So however you plan to celebrate, however much you plan to spend, don't forget that the two of you are soon to be of the few who believe in the oftentimes unbelievable–true love. Make it your day, make it meaningful, and don't forget to take a #selfie.