February/March 2017 | view this story as a .pdf
Next Stop Chengdu
Sichuan Kitchen brings the heat to Congress Street.
By Diane Hudson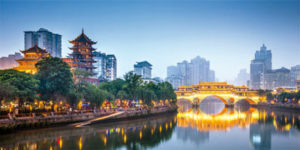 Enticing, spicy Sichuan Kitchen is now pulsing on Congress Street. In this daughter-father act, Qi Shen (Qi meaning "life" or "breath" in Mandarin) brought her dad, Shang Wei Shen, from his native Sichuan Region of southwest China to dazzle diners here. As head chef, "He speaks no English," Qi says. "We translate each order to him in Mandarin."
We begin with the seaweed salad ($7). Crystal vermicelli noodles, julienned daikon, and savory seaweed combine to create a stunning fresh salad dressed with roasted chili oil, which gives the dish a smoky heat. It's spiced, not spicy: the kick of the chili is tamed by black vinegar and a generous garnish of fresh cilantro.
If the heart of Sichuan cooking beats with "four taste sensations: spicy, hot, fresh, and fragrant," according to the menu. This opener delivers on all four. Seeking robust sensuality, we enjoy an appetizer of savory Sichuan-style ribs ($12). Made of slow-braised, tender pork ribs smothered in a dark syrupy sauce, this pairs beautifully with the subtle, dry heat of the seaweed salad.
Following tradition, we sip cups of fragrant tea from a white ceramic teapot between courses, cleansing our palates before the next round of indulgence. Shen's specially selected E-Mei Kaifengt tea ($5) is made from a delicate blend of floral jasmine and green loose-leaf tea shipped from China. Our draught of Peaks Fresh Cut Pilsner ($6) hasn't traveled quite as far to our table–but certainly delivers on refreshment.
We can't bear to leave the appetizer list, so we try a plate of Zhong dumplings ($7), straight from Shen's hometown of Chengdu. These tender little pockets of luscious, garlicky pork loin are topped with the signature Zhong chili-soy sauce with just the right amount of zing. We are smitten.
Our next taste treat, served family-style, is Fish with pickled greens ($19)–Swai fish fillets, pickled greens, chilis, and Sichuan peppercorns. Swai is a white fish similar to a catfish. Bathing in a velvety broth, the dish boasts the classic Sichuan pepper spice profile: a slow, numbing tingle of heat with a lemony flavor, unlike the hot, eye-watering slap of the traditional chili pepper. A real slow burner, this dish is the perfect antidote for a cool, windy day.
Shang Wei Shen has a surprise for us: Double-Cooked Pork ($16). His plate of delicate pork belly shells arrives simmered and then fried in a rich bean paste punctuated with flash-fried leeks for a zippy freshness. Jumping with vibrant greens and reds, this bowl is as much a feast for the eyes as for the taste buds.
Bypassing the limp, greasy fare of pseudo-Chinese takeout joints, Sichuan Kitchen delivers authentic regional cuisine thanks to Shen's exciting and accessible cooking. Quite exceptionally, flavor is not lost in translation at Sichuan Kitchen. n
Sichuan Kitchen, 612 Congress St., Portland. Sun.-Wed., 11:30 a.m.-9 p.m.; Thurs.-Sat., 11:30 a.m.-10  p.m.
536-7226, sichuankitchenportland.com