By Diane Hudson
April 2017 | view this story as a .pd
Tasty and trendy, Izakaya Minato on inner Washington

 

has diners lining up for a new kind of urban experience.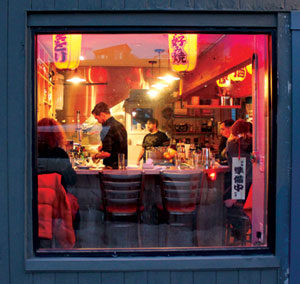 Washington Avenue's star continues to rise with the arrival of casual-yet-cool, Japan-inspired Izakaya Minato. Like many of the latest hot spots on The Hill, Izakaya Minato fills up quickly, so go early if you want to get in at all. Seating is varied and can accommodate any mood or group. We sit at the bar just in front of the open kitchen, where the magic happens. And magic it is. Our server explains that an izakaya ("i" meaning to stay; "sakaya," sake shop; "minato" meaning harbor) is the Japanese equivalent of the gastropub.
The menu surprises by heading in four directions–Starting Off, From the Port, From the Farm, and To Finish. Conspiratorially, our server whispers, "It's whatever you want here, however you want it." We pick a bowl of miso soup ($3). Aromatic and soothing, the broth simmers with dashi (dried seaweed) and daily-changing vegetables. Velvety shredded daikon lends a fresh bite to the umami flavor. It's particularly delicious sipped directly from the bowl.
Equally good for sipping are innovative cocktails like Plum Vesper ($11), made with plum sake, gin, vodka, and ume boshi (Japanese pickled plum). Or try the wines, local draft, or a dizzying array of sakes. For those of us who aren't sake sommeliers, try the Sake Sampler ($14), three 1.5-oz. pours served on a wooden board. We're happy to discover our favorite, the Blue Current Junmai Ginjo, is made right here in Maine.

Starting Off, we choose the Kinoko Salad ($8). Tender sautéed mushrooms and roasted vegetables rest on a bed of spinach, artfully drizzled with a creamy ponzu dressing. Next up is Okonomiyaki ($10), a cabbage pancake that comes with either mushroom or bacon, depending on your conscience. Filling and rich, this is exotic comfort food. Equally irresistible is the Sakana Misoyaki ($7), broiled seasonal fish marinated in miso.
Serendipitous? Mackerel is the catch of the day. The tender meat arrives enveloped in delightfully crisped skin. We finish the plate in a matter of moments, vowing here and now to return until we've tried every fish dish on offer.
Though totally satiated, we couldn't possibly leave without sampling a ramen dish. Udon Vongole ($13), a quirky Japanese twist on the traditional Italian Spaghetti alle Vognole, comes cooked with garlic, succulent clams, and sake, seasoned to just the right heat. News flash: these are The Best Noodles Ever.
As the night unspools, we agree we have just enough room for dessert. Fresh ice-cream or sorbet flavors change daily. Luckily, a zesty bowl of Yuzu orange sorbet ($4) from local artisan Little Bee hits the spot. After a rich, salty dinner, the sorbet is the perfect cooling palate cleanser. n
Izakaya Minato, 54 Washington Ave., Portland,  Mon.-Thu., 5-10 p.m.; Fri.-Sat., 5-11 p.m., closed Sun.  613-9939 izakayaminato.com