May 2017 | view this story as a .pdf
Dreamers upend downtown, the Old Port, and the waterfront.
By Mike Schoch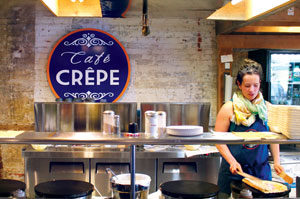 Not the Usual Suspects
Portland Public Market House is shuffling its roster dramatically. After 18 years, beloved cheesemonger Kris Horton has hung up her cheese knife. Stepping in to fill the void is Cafe Crêpe.
"We do one thing, and we do it really, really well: sweet and savory crêpes," says owner Lauren Brinkmann.
Bar seating excites with views of the open kitchen space, where the staff deftly smooths and flips the batter over large hotplates. Extra seating at the window faces Monument Square. Crêpes are hot right now. Brinkmann runs another Cafe Crêpe location in Freeport and a food truck on Thompson's Point. But the Market House venture is her biggest yet. "We're so used to working in tight spaces. This feels huge." Here's a taste: The Roma features "mozzarella, tomatoes, basil, olive spread, and pesto." Dare to feel sweet? The Cinnamon Bun startles with "cinnamon, sugar, and butter."
On the second floor, replacing Granny's Burrito, Sticky Sweet serves sweet rice treats that co-owner Ashley Dow learned to make while teaching in Thailand. The dish is simple–sticky rice paired with fruit and drizzled with Maine maple syrup.
Another newcomer, Pho Co., is owned by husband-wife team Hoang and Chau Du Nguyen. The stand sells steaming bowls of soup along with spring rolls, dumplings, and rice dishes. Hoang says pho ramen has become a recent favorite. "We were the first place in Portland to combine these two popular dishes."
A block over from the market, Portsmouth-transplant BRGR Bar is serving up grass-fed beef and boozy shakes in the space once inhabited by Margaritas Mexican restaurant. But this is no Happy Days diner. The lighting is subdued, and the space is industrial in style with a bright mural of a cheeseburger dominating the back wall. You could get a workout walking laps around the enormous bar. Burgers range from $13 to $18 while a spiked shake will set you back $11.
Across Monument Square, sandwiched between Guitar Grave and the First Parish Church, catering company A Moveable Feast has opened a restaurant branch, Vieux Port Creole. Co-partner Susanne Cornelia says the fare is unique in Portland. "The Cajuns came through Maine on their way to Louisiana, and this is the kind of hearty food they ate," she says. Cornelia's grasp of Acadian history may be fractured, but the gumbo and jambalaya are tasty and surprisingly inexpensive: only $4.25 for a cup and a bread roll.
"It's affordable because we buy simple ingredients and don't pour anything out of a bag," Cornelia says. Her restaurant opened on Mardi Gras, but Cornelia and partner Kevin Guay are still putting the finishing touches on the place. The intimate dining area, checkered floor, paintings, and even the makeshift counter all make it inviting and unpretentious. When Cornelia isn't bustling around greeting and chatting with customers, she's working on her laptop out in the dining room. As customers pay their bills, they leave with stacks of lunch menus. "I hand them out like candy," she says.
Chain Reaction
In the rough square mile contained by India, High, Congress, and Commercial Streets lies the salty, beating heart of Portland's commerce. And despite the Old Port's nostalgic name, retail spaces in the area seem to ride a carousel of new ownership.
This summer, Williams Sonoma-owned furniture chain West Elm will move onto the corner of Middle and Market Street, formerly home to White Cap Grille and before that Sebago Brew Pub. Before that, the Oyster Club. Before that, Market Street Market, developed by Pritam Singh. It's a magic corner, as the turnover implies–a telling starting point for change.
Portland has had an uneasy relationship with chains in the past few years, exemplified by a 2006 City Council zoning ordinance that limits the number and size of franchise businesses in the Old Port. Nevertheless, Urban Outfitters set up shop on this row in 2011. Anthropologie followed in 2015. The appearance of another corporate chain fuels anxiety about the homogenization of Portland's marquee retail district, the threat it poses to local business owners, and, less quantifiably, the dilution of local charm. (Though few suggest the Old Port wasn't a rough and a scary place to walk through at night before the retail renaissance.)
West Elm spokesperson Dru Ortega insists, chain or not, the furniture store will make an effort to become more than just an outlet. "In 2013 we introduced West Elm LOCAL, empowering our shopkeepers to connect and engage with area artisans, nurturing a creative network that celebrates craftspeople," Ortega says. "Our shopkeepers are empowered to become contributing members of the community by inviting artists, makers, and other local creative business owners into the store to host pop-up shops and community-driven workshops that are open to the public."
Ortega adds that the store "will dedicate a small footprint to featuring a selection of products made by Maine-based artists." In fact, the design of the store will be, to an extent, Portland-specific. "A handful of elements in West Elm's Portland store will honor the city's industrial and maritime history," he says, including sailing rope woven into a sculpture and a lattice of railroad ties. Local flavor, or just good PR?
Sartorial scene
Rough and Tumble on 127 Middle Street is a paean to what manager Jessica Shulte calls "the strong, rugged Maine woman." Founded by former restaurateur Natasha Durham of Natasha's and Mim's fame, the store sells mostly leather handbags–each individually handmade at Durham's studio space in Norway. The flagship store is stylishly spare, with wide expanses of wood floorboards and industrial metal racks bedecked with bags.
"The emphasis is on being functional, but our bags are proof that something well-made and functional can turn out beautiful," Shulte says.
Just a few blocks away you'll find another handbag connoisseur, this time with an Italian heritage. O Bag on Middle Street is one of eleven U.S. locations representing the European brand. The concept here is often likened to adult Build-A-Bear, where customers create their own custom bags by choosing the components from rows of bags, handles, liners, watch faces, and other accessories in a dazzle of color schemes, all dripping and dangling from the walls. Assistant manager Bayley Hamilton says customers "spend hours in here planning out their bags."
Across the way on Exchange Street, boutique Peyote Moon [pictured above] is a champion of high-end handmade style. Owner Bridget Lenahan threw open her doors last year, featuring wares that are "timeless and committed to slow fashion, not the stuff you buy and throw out season after season."
The shop has a Southwestern flavor, with turquoise rings, denim jackets, and dream catchers aplenty. A mix of vintage and contemporary clothes hangs from the walls. Most of the items are made in small batches from independent designers.
"These are heirloom pieces that will last a lifetime," Lenahan says. And the prices do promote that expectation. A vintage Grateful Dead T-shirt will set you back $248.
Lenahan was initially terrified that business would slump during the winter, but business has been steady. "I've put literally everything into this store," she says. "Each step is exciting but a little nerve-wracking."
Bars & Baristas
Two newcomers have moved in opposite each other on Wharf Street–the epicenter of Portland's raucous summer nightlife. Mark Deane, owner of Rosie's, Mark's Place, and Old Port Slice Bar and Ice Bar, established Mark's Sports Bar [above right] on the former site of Buck's Naked BBQ.
His philosophy couldn't be simpler. "It's about watching sports, so we went ahead and made that easy to do." Deane nods to the numerous flatscreen TVs wallpapering the establishment (there are more than 70.) The dim interior allows some light to enter, but not enough to distract from the screens, some of which are wall-sized projections.
"We can put on different games in each section, so customers can watch what they want," Deane says.
Deane, who lost his wife, Cindie, to cancer, says he spent three years grieving and not speaking to anyone. His most recent flurry of entrepreneurship has been his way of connecting to the world again. "This really started as a way to get out of the house."
Opposite you'll find Jager, a Bavarian pub whose brand fits in with the deep cobblestones and European mise-en-scène (sports bar notwithstanding) of Wharf Street.
"The idea came to us following the overwhelmingly positive response we received from Oktoberfest specials at our sister pub, The King's Head," says co-owner and chef Paul Kirschbaum.
Light filters through a single window facing Wharf Street. Exposed brick, finished wood counters, and mounted antlers lend to the hunting-lodge feel. Jager, after all, is German for hunter. You could certainly imagine bearded, musket-slinging Teutons plopping down here to chow on bratwurst and Spaten lager.
Kirschbaum is of German descent and says the menu is informed by his time spent working at his family's restaurant in Düsseldorf. Far from a novelty act, this place caters to Portland's substantial German community. "We've only been open since February, and we're thrilled to find both local brewers and off-the-boat Germans as dedicated regulars," Kirschbaum says.
Just a few blocks westward, yet far away in spirit from the hunting grounds of Deutschland, you'll find Baristas + Bites. The interior is small, industrial, and designed for customers to orbit around a rectangular steel service counter. Owned by financial advisor and founder of Love Kupcakes, Amy Alward, the cafe courted controversy earlier this year when Alward declared she would pay employees $15 an hour and introduce a no-tipping policy.
Open for breakfast and lunch, the cafe's focus is, naturally, Love Kupcakes and, less conventionally, fresh, local rotisserie chicken to-go.
While cupcakes and chicken may not seem like likely bedfellows–or platefellows– manager Chris Hines says,"The most popular item on the menu, by far, has been the chicken." Which is lucky, as the installation of the large rotisserie oven caused headaches. "When we got it up to Fore Street, we couldn't get it in the front door. [It] had to be shipped back to Boston. The shipping and reassembling costs were outrageous."
Local bartender Joshua Miranda is making moves on Exchange Street. His new cocktail joint Blyth & Burrows will have a seductive nautical theme that pays homage to the bar's namesake, 19th century sea captains Samuel Blyth and William Burrows.
Blyth & Burrows hopes to entice in a sophisticated crowd with the promise of molecular cocktails, smalls plates, and an oyster pit. "Order a drink at The Captain's Table and select a mixed dozen oysters from the Damariscotta River," advises Miranda. And there's more. "Once you've eaten, tell your server if you're not ready to go home. They'll direct you down a secret passageway…" The daring will discover a secret basement bar–the Broken Dram–hidden to all but those in the know.
Familiar Faces, New Spaces
An old friend returned to the Old Port this year in the shape of El Rayo Taqueria. Moving from its home in a former renovated gas station on York Street (slated to become a condo development), El Rayo has replicated its bright, kitschy style in the space formerly known as stationery shop Papier Gourmet on Free Street. The large rear deck promises to entice hungry burrito-eaters throughout the summer months.
Meanwhile, popular food truck Mami will soon be opening a permanent (and stationary) restaurant on Fore Street where Mainley Wraps once stood. Co-owner Hana Tamaki believes that fast-casual food, such as Mami's Kobayashi Hot Dog, is on the rise in Portland and anticipates a busy lunch rush. "We want to open a place where people feel comfortable bringing their kids," she says. "We're anxious but very excited [to go into bricks and mortar]."
Longfellow Square locals can breathe easy with the confirmed revival of Joe's Super Variety in the brand-new Hiawatha Building at 667 Congress Street. The new location, situated on the first floor of the sleek, eight-story building, may seem a world away from the shop's origins, but owner Michael Discatio assures us that despite the change in appearance, Joe's is still planning on keeping it real.
"I can't walk down Congress Street without people asking me when we're going to open. All they say is that there's no place to get a sandwich around here anymore." Customers can enjoy the extended food, beer, and wine selections, but other than that, Michael expects to maintain the shop's previous atmosphere. No big deal. "Took an old building down. Put a new one up."
When asked how his grandfather and store founder, Joe Discatio Sr., would have felt about their brief closure, Michael says, "He'd be pissed. I closed for 17 months. He didn't want to close for a single day."