May 2017 | view this story as a .pdf
Ogunquit Playhouse showcases the edgy Broadway hit Ragtime
as a sign of these times.
By Olivia Gunn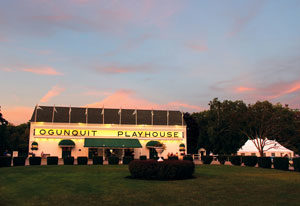 Once upon a time, summer theater was dismissed for rarely taking risks. This year, race, immigration, and class issues all take center stage at Ogunquit Playhouse in Ragtime: The Musical, a story spanning 10 years of the early 20th century as the United States prepares to enter World War I. Three families, three different worlds, all-American.
To better understand our national uneasiness in 2017, "we must examine how our country came together," says artistic director Brad Kenney. "Ragtime shows the struggle laid out bare on the stage."
Based on the 1975 novel by E.L. Doctorow, the musical first premiered at the Ford Centre for the Performing Arts in Toronto in 1996 before making its way to L.A. and finally to Broadway in 1998. The show is epic in its scope. Written by four-time Tony Award-winner and Pulitzer Prize-nominee Terrence McNally, Ragtime follows the lives of three central characters from three very different backgrounds: Mother, an upper-class WASP from New Rochelle; Coalhouse Walker Jr., a black Harlem musician; and Tetah, a Jewish immigrant from Eastern Europe. Their lives merge in a force, generating one sweeping, tragic, triumphant version of the American tale. The story was produced in cinematic form in 1981, garnering a slew of Academy Award nominations.
Tom Mikotowicz, author and Professor of Theatre at the University of Maine, says it's multiculturalism that makes shows like Ragtime: The Musical and the recent hit Hamilton so strikingly relevant today. "That is a real post-modern concept. Thirty years ago on Broadway, you weren't seeing shows like this. In Hamilton, for example, the cast would have been made up of white males. That clash, using that post-modern casting concept, points out the discrepancies in our culture."
Doctorow, an Army veteran who once stated his politics were "Biblical: you shouldn't murder, you shouldn't steal," couldn't avoid reflections on the Vietnam War while writing Ragtime in the 1970s. So while it seems there's no coincidence that Ogunquit Playhouse has chosen to take on the show now, to feel more recent tensions and reverberations, Kenney is a deeper pattern-spotter. He's been mulling over the idea of presenting Ragtime in Maine "for over five years."
Still, particularly this summer, "theater has a responsibility to give back to the community and culture," says Kenney. "Members of my own immediate family feel very differently about current affairs."
From the exploits of Harry Houdini to a functioning Ford Model T on stage, Ragtime isn't a walk in the park production-wise. "It's a lot to take on when you know you have foot the bill," Kenney says. "But we knew that regardless of how people feel about it politically, we must examine how this country came together and what we are. The president is the lead story every single day of our lives in this country. Most of our conversations harken back to these themes. I don't think there is a better piece that shows it…and it's done in a fantastic Broadway fashion."
L ast summer, the theater performed The Hunchback of Notre Dame, another epic undertaking. But it wasn't just the striking visuals and performances that hit audiences at their core.
"Hunchback, though it was based on the Disney version, takes more from the Victor Hugo novel," a much darker vision, explains Kenney. Charles Laughton's standout performance as Quasimodo in the 1939 film comes to mind. "In Hunchback, one of the strongest themes is racial hatred." When it was staged last summer, "we were headed toward the [presidential] election. Audiences were sitting there with tears in their eyes." For all its distance and antiquity, Hunchback "shocked people. It was more than they expected." Cue Ragtime. "The stakes don't get higher for people trying to survive, live in a new country, or keep their family together."
For the past 85 seasons, Ogunquit Playhouse has brought works to its stage that expose audiences to a life beyond their own. In 2014, it was recognized for exceptional work with a listing on the National Register of Historic Places that touches on its cultural impact and role as one of the bastions of the small theater resurgence.
Is art catching up with real life, or is it the other way around? "People are gravitating out of the cities, L.A., Hollywood, and New York. Professional productions are moving into different regions." This August, they'll give us the stories of a Harlem musician, a Jewish immigrant, and a sheltered, upper-class housewife. Three varied American stories merge into one message of hope.