Summerguide 2017 | view this story as a .pdf
Add a soupçon of naughty to your evening with Portland's premier cabaret troupe.
By Olivia Gunn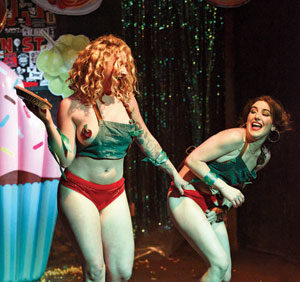 Interested in something a little different? Dare to feel a little uneasy? OK, Portland. Let's do this: "Willkommen! Bienvenue! Welcome! Im cabaret. Au cabaret. To cabaret!" The Forest City's irrepressible new Voulez-Vous Burlesque troupe is doing for Maine what Le Chat Noir did for Paris in 1882 and Christopher Isherwood's fictional Kit Kat Club did for 1930s Berlin.
Geno's Rock Club isn't my typical Friday haunt, but after a week of nine-to-five routines, I need to add a little more spark to my night. Like Sally Bowles, I'm craving the "strange and extraordinary." The evening's entertainment, presented by Voulez-Vous Burlesque, is playfully entitled The I F*cking Love Food Show. With a name like that, it's sure to add, well…something. We order our drinks and boldly sit at the table closest to the stage. It's dark save for a lone inflatable cupcake placed center stage. Soon the emcee emerges, dressed in a chef's coat and hat and armed with the sassy crudeness that brings to mind Joel Grey's performance as Master of Ceremonies in the 1972 film version of Cabaret. He rouses the crowd into a state of anticipation and titillation worthy of a decadent night at the Moulin Rouge.
Oh, What a Show!
The first act begins with a strange and amusing interpretation of Ronald McDonald's old nemesis, the Hamburglar. On the stage, we watch a man overcome by his love of the Happy Meal burger. Once the performer is stripped down to his skivvies, he's joined by a life-sized version of his obsession: a hamburger that playfully peels away two all-beef patties, special sauce, lettuce, cheese, pickles, onions, and a sesame seed bun to the strains of Jimmy Buffett's "Cheeseburger in Paradise." The show continues in suitably surreal and playful fashion, with acts ranging from a raucous tap routine to a rendition of the Chordettes' classic 1950s pop hit "Lollipop." My fiance's favorite is a two-person dance choreographed to Warrant's 1990 hair-metal classic, "Cherry Pie." In fact, the male contingent of the audience seems particularly responsive to the artist's use of whipped cream during this performance. No matter what your level of prudishness, the good-natured atmosphere of the show makes it hard not to find yourself laughing and cheering along while sparkles and breasts go flying across the stage.
During the second act of the evening, we're introduced to the star of the show, producer/director Sundae Morning. Her routine involves tempting three unsuspecting volunteers from the audience to eat ice-cream sundaes with their hands tied behind their backs. Ms. Morning cackles as three men take the stage. With little else than a glittering maraschino cherry topping her head in the way of clothing and a mouth full of Bette Midler-esque lines, she captures our attention even as three grown men wolf down ice-cream hands-free in front of us. My cheeks hurt from laughing by the time she leaves the stage. It's clear to me I must meet the woman behind the pasties.
Tasty Delight
Christina Mosher, a.k.a. Sundae Morning, grew up in Lyman, Maine. At 21, she attended her first drag show. "Look, my brother says 'hoss' instead of house and drives a lifted truck, if that tells you anything," she says of her upbringing. After performing in shows doing "faux drag" (a female performance that adopts the style of male drag queens), Mosher eventually began performing at the now-closed Studio 55, directing a weekly drag performance. Since Studio 55's closure in October 2016, Voulez-Vous Burlesque, Mosher's 13-member troupe, still puts on two cabaret performances per month. Each show, written and choreographed by Mosher herself, takes about three weeks to produce, including the design and creation of costumes. Who knew a bucket of rhinestones costs $15? But it's all worth it in the end, says Mosher, who notes that her confidence on stage has sometimes surprised audience members. "I've had women tell me that they wish they could do what I do, but just aren't comfortable. I think to myself, 'Why is it radical for a size-14 woman to be comfortable showing her body?'"
Many of Voulez-Vous' performances poke fun at popular culture and current events–as any good cabaret act should. The troupe's Inauguration Day show at Geno's a few months ago took audience members by surprise. Mosher recalls a few men being a bit taken aback at just how much fun the troupe had with Mr. President. "At the end of the day, you're going to offend somebody," she says with a cheeky wink. "There's a time and place for everything."
This summer you can catch several cabaret performances by Voulez-Vous in Portland, including I F*cking Love Food Part Two at Portland House of Music and Events on June 15 and When You Wish Upon a Bra, a Disney-themed performance in August. If you're still not sure you can handle a night out with Voulez-Vous, ask yourself, "What good is sitting alone in your room?"