Summerguide 2017 | view this story as a .pdf
Escape the City
An evening at Sea Glass Restaurant in Cape Elizabeth is an enchanting and restorative experience.
Review by Diane Hudson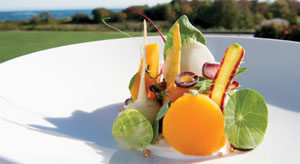 There's a certain magic to a hotel restaurant that puts you in a getaway state of mind, even if you're not on vacation. A drive to Cape Elizabeth for dinner at Sea Glass Restaurant at the Inn by the Sea delivers the goods. The rambling cottage glamour and shimmering seascape beyond the deck and gardens really are the cure for urban funk.
We each begin with a martini: one Beefeater, one Tito's, both bone-dry and straight up. Our waiter presents us with an amuse bouche–a dainty roasted mussel on the half shell dabbed with a smidgen of fresh grapefruit and a smear of spicy, peppery sauce. We sip and sample while checking out the fine selection of paintings around the dining room, many by local artists, including Eric Hopkins, Ed Douglas, and Laurence Philip Sisson.
Chef Andrew Chadwick comes to Maine by way of the Chatham Bars Inn on Cape Cod, and the menu reflects his commitment to sustainable local seafood. We share an appetizer of tiny lobster tacos ($16), each delicately crisp tortilla less than two inches across, standing upright on a dab of avocado puree and brimming with sweet chunks of lobster.

The menu notes vegan, gluten-free, and pescetarian options. The daily catch, poached pollock in a vegan vegetable broth, sounds entirely above reproach but perhaps a bit too close to health food for us. We choose instead the salmon filet ($30), which arrives with gloriously crisp skin and a delicately translucent center. It's served with a tender, caramelized roasted carrot, dabs of carrot purée, and a rather bland artichoke purée. While a sprinkling of granola is distracting, tiny orange pearls of salmon roe add a joyful zing. The sirloin steak ($38) is simply delicious, grilled to a juicy, rare perfection. The accompanying braised black barley is tasty and filling, if a little under-seasoned.
Since we're sharing the entrées, we choose red wine for the steak rather than a white for the fish, and sip glasses of silky, dark Josh Cabernet Sauvignon ($10). To finish, we savor a rectangular chocolate financier ($9). The delicate petit-four cake has a secret moist interior and comes garnished with whipped cream and fresh raspberries. It proves the perfect finale for watching twilight repaint the colors of Crescent Beach. The setting, the meal, and the exceptional service and hospitality have proven a welcome escape from the city.
Sea Glass Restaurant at Inn by the Sea, 40 Bowery Beach Road, Cape Elizabeth. Open daily 7-9 p.m., Fri and Sat 7-9:30 p.m. 799-3134 innbythesea.com