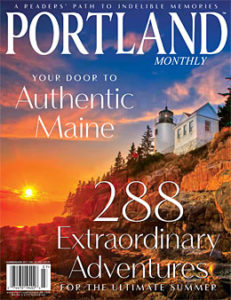 Maine Life
40 Maine Classics
53 Concierge
73 Chowder
75 Portland After Dark
"Night is a Cabaret"
Just the ticket for the shy and retiring types.
By Olivia Gunn
195 New Oyster Cult
Bite into the briny history of Maine's oyster industry.
By Sarah Moore
198 The Oyster Chronicles
The country's most celebrated oyster blogger talks meroirs and marriage in Maine.
By Julie Qiu
Perspectives
36 From the Editor
38 Letters
245 L'Esprit de l'Escalier
How a Holocaust survivor inspired so much joy during
the Wonderbread years.
By Rhea Côté Robbins
Shelter & Design
90 Dream Islands
Your private Shangri-La awaits. From Portland Harbor to Machiasport, we share parcels of paradise you'll dream of owning this summer–with descriptions and prices.
By Colin W. Sargent & Willis Kuelthau
208 Hidden Shore
For sale on Zeb Cove off Shore Road, Cape Elizabeth: Eliot Cutler's mesmerizing estate transcends geography with stunning antiques from Beijing, a two-storey tower library, a significant collection of contemporary Maine art, and just the two grand pianos.
By Colin W. Sargent
271 House of the Month
"The Lively Lady"
Five generations of sea captains left their hearts in this 1799 landmark in Kennebunkport. And oh, by the way, Kenneth Roberts tippled here.
By Sharon Cummings
278 New England Homes & Living

Authentic Maine
Expansive, inimitable, unique, Maine shimmers from the tip of Mount Katahdin to the depths of the largest ocean whirlpool in the Western Hemisphere. Hear the insights of Mainers who love to listen to "the ticking of eternity." Taste the best lobster rolls on Earth. Feel the wind blowing across the helm of the Schooner Bowdoin as she tacks toward 100 years afloat. Unsure of fake Maine? Here's the real deal.
118 The Ice Caves
Discover an icy surprise deep in the heart of Baxter State Park. 
By Sarah Moore
120 Bowdoin at 100
Before Kickstarter you could buy a piece of the schooner Bowdoin.
By Colin W. Sargent
122 Maine's
Time-Space Portal
The largest whirlpool in the Western Hemisphere sucks us in.
By Sarah Moore

124 Spirit of the Mountain
Why Thoreau didn't have the Moxie to scale Katahdin.
By Colin W. Sargent
130 Edna's Fortress of Solitude
Edna St. Vincent Millay's dearest spot on Mt. Battie.
By Colin W. Sargent

134 Now That's Maine
In your own words.
Photography by Diane Hudson, Blair Best & Ryanne Desjardins
141 Secrets of the "Yokelvores"
Where the Natives eat. The inside track to Maine's local foodie favorites.
From Staff & Wire Reports
153 To The Lighthouse Photo feature: Inspired by our shores, a pharographer from Japan puts our lights up in lights.
Photography by Fujio Mino
161 The Floating Opera
Schooner Bagheera has a double life as a college science classroom.
By Patricia Pierce Erikson
167 Chasing Frederick Douglass
Did the great statesman and social reformer address Portland's African Americans at the
Abyssinian Meeting House?
By Darlene Taylor
171 Murder in Paradise
Who killed Sir Harry Oakes,
the richest man in the world–and a Mainer to boot? News flash: We hear from Sir Harry's granddaughter!
By Ron Soodalter
177 The Grand Tour
Step inside Henry Knox's Montpelier mansion, re-imagined.
From Staff & Wire Reports
181 The Curious Incident of the Lobster Thermidor
The fading darling of Maine's menus traces its origins directly to the Paris stage.
From Staff & Wire Reports
182 Chebeague Island:
The Trumpeter of Krakow Finds a Home
Open the door to an author's island getaway.
From Staff & Wire Reports
184 Wave Action
Surf's up in Maine!
From Staff & Wire Reports
187 Overjoyed
Anne Morrow Lindbergh's lyrical take on North Haven Island from the air is answered by fellow pilot Elizabeth Maynard as she navigates the heavens over Casco Bay.
By Anne Morrow Lindebergh & Elizabeth Maynard
Personalities
43 Little This, Little That
Swamp blues star Kenny Neal talks Cajun cooking and Maine connections before The North Atlantic Blues Festival July 16.
Interview by Colin W. Sargent
Food&Drink
81 Hungry Eye
"Bad girl of the food world" Barbara Lynch takes us from lobster soirées with Caroline Kennedy to trips to Italy with Maine chefs.Interview by Nina Livingstone

PLUS: "My Lobster Encounter: Spiky, Elusive, Delicious"
A blind writer explores Maine with her sense of taste–with surprising revelations.
By Nina Livingstone
241 Everyday Sommelier
Dare to pair irreverence with beauty as we consider wines for an endless summer.
By Ralph Hersom
246 Dining Guide
247 Restaurant Review
Spend an evening in the company of delicious dishes and stunning views at the Inn By The Sea's Sea Glass Restaurant.
By Diane Hudson

Art&Style
299 Fiction
"A Shaggy Dog"
By Joan Connor
304 Flash
We catch you being you.