Get your first taste of the summer with the 44th Annual Old Port Festival hosted by Portland Downtown. For decades, the Old Port Festival has brought Portland's artists, performers, and vendors together for a day spent celebrating in the heart of our city.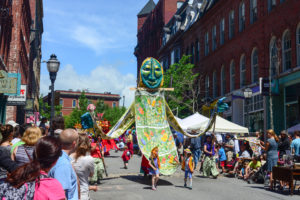 On June 11, three stages will be located around the Old Port, featuring performances by Blue October on the Coast 93.1 stage hosted by Blake and Eva from the morning show, Ghost of Paul Revere on the WCLZ stage, WPOR, Maine's #1 Country Station, and the Maine Academy of Modern Music. From music and art to the great tastes of Maine, the Old Port Festival showcases the very best of Portland. You can find the festival schedule below and check out Portland Monthly's Dining Guide, the go-to list of select area restaurants.
This year, Portland Monthly has partnered with Uber so you won't miss any of the fun! Request an Uber ride and be taken to Monument Square. From there you'll have access to the entire Old Port. The best part? Stop by the Portland Monthly booth on Middle Street beside the Salt Cellar with your receipt and receive one free scheduled ride with Maine BayCycle OR tickets to The Portland Sea Dogs' home game on July 17.
Terms and Conditions: Tickets are available for a limited time only on a first come, first served basis, and must be picked up in person at the Portland Magazine booth. Limit one ticket per rider. Not all requests will be fulfilled. Ticket redemption for Maine Bay Cycle is at the company's discretion and is not valid for June 11. Portland Sea Dogs tickets may only be redeemed for the SeaDogs vs. Trenton Thunder game on July 17th.
WHEN: June 11 from 11 a.m. to 5p.m.
WHERE: The Old Port
ACTIVITIES:
11AM – Shoestring Theater Parade
12PM – Mad Science Maine
1PM –  Portland Youth Dance
2PM – Circus Maine
3PM – Naveah Dance Group
4PM – Drumming Circle: Positive Repercussions
Children's Rides
The Casco Bay Eye Ferris Wheel – DiMillo's on the Water
MUSIC SCHEDULE:
WPOR Stage– Middle and Temple Streets
12:30PM – Morgan Wallen
1:30PM – Midland
Coast 93.1 Stage– Middle and Temple Streets
3PM –  MUNA
4PM – Blue October
WCLZ Stage– Fore and Silver Streets
12PM – Hannah Damon and the Martell Sisters
1PM – Pete Kilpatrick Band
2PM – Amy Allen
3PM –  Ghost of Paul Revere
4PM – Armies 
Maine Academy of Modern Music– Dana Street
12PM – MAMMOTH
MAMMOTH Rock Chorus
MAMMOTH Brass Band
12:30PM – GIRLS ROCK
Mad Dads
Chaotic Rotations
NYN
Pandamonium
Signed Anonymous
1:30PM – KIDS ROCK
Night Eyes
Escape The Stage
TBD
Gooder Grammar
Various Artists
Without Logic
2:30PM – THE Q97.9 ROCKS
Daniel Skye
3PM – MAMM SLAM
Yard Sail –
Spacehaven
The Asthmatic
Mikayla Gallows
5PM – TEENS ROCK
Sylvia Kane
Kid
Delayed Resolution
Rest Assured
One Night
Brick Brothers