July/August 2017 | view this story as a .pdf
Built in 1869, the historic York County Jail is for sale. Again.
From Staff & Wire Reports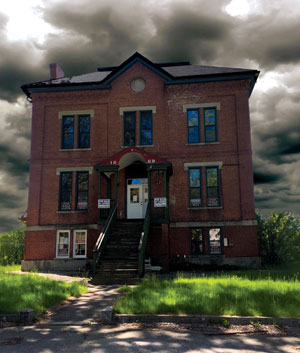 The Shawshank Redemption was shot in Ohio. But it could have been filmed right here at home in Maine.
The cells are here, iron doors clanging into eternity. There's even a quarters for the warden's family, just like in the Stephen King movie, with wallpaper and polished ash floors. Sure, it's not open-concept. But all roads lead to your purchasing the former York County Jail in the town of Alfred, York's county seat, at 8 Court Street on Route 111.
The asking price is $250,000, or roughly ten times what the seller, Michael Kaplan of Kaplan 8 LLC, paid for it in 2001 as part of a bidding process conducted by the town.
"There were ladies' cells" as well as men's, "on the second floor at the end. That's why the doors are solid," Kaplan says. "There was a revolt in the prison" that signalled the end of its service to the county.
Since then, it's slowly deteriorated, though its septic system is still capable of handling 2,100 gallons a day. Kaplan has made cosmetic, heating-system, and electrical improvements to the lower level facing Route 111 and had some tenants here over the years, but no one's here just now. He loves the building and has entertained countless dreams from possible purchasers, beyond his own, because many prospects just like to try the place on.
"Dunkin' Donuts looked at the land (over three acres), but the town wouldn't agree to its having a drive-through," he says. Other dreams, some of which have involved tenants, include "boatbuilders, a distressed sign company, Jailhouse Antiques, a photo studio, law offices, restaurants, a gift shop."
People have been offering Kaplan ideas "forever. Longer than that."
You could "remove the cells" if you like. "Above are beautiful arched windows. All the light, morning or afternoon, would flow in."
This jail has good bones. "All of these pieces of granite" are priceless.
During the summer, it's easy to imagine a craft brewery taking over the building. Slammer Glamour. Iron Clang. Shawshank Lager. Better still, what a film school this place would make, with a film festival. At night, the sound of crickets.
Asked if he's motivated, Kaplan replies, "Wicked."
Taxes are $2,728.52