July/August 2017 | view this story as a .pdf
When did traditional foods of the Middle East become so popular here?
By Claire Z. Cramer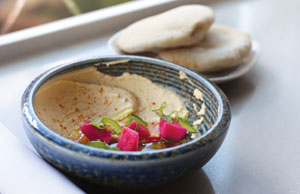 The diverse stretch of Forest Avenue between Woodford's and Morrill's corners has long been a destination for authentic ethnic cuisines. There you'll find two dedicated markets, Ahram and Sindbad (or Sinbad or Sindibad, depending on which sign you're looking at on the storefront windows), and a bakery/café–all owned by enterprising Iraqi immigrants. But as Middle Eastern food soars in popularity, you can now discover delicious Levantine-themed locales in East Bayside and the Old Port.
BUT FIRST, LUNCH
Start at Ameera Bread at 845 Forest Avenue for a quick bite. On the front window there's a sign that reads, "Iraqis–Americans: Together we stand to protect our home–America."
Inside the little cafe, large rounds of just-baked pita and samoon loaves are stacking up in the open kitchen. A column of glistening shawarma meat sizzles on the stove. The counter displays trays of spinach pies and pastry triangles, sambusas, filled with beef, chicken, or veggie mixtures. The first bite into a beef triangle is a delicious burst of subtle herb and spice. The tasty little treat is just $1.99.
Ameera Bread is owned by Ahmed Abbas. His nephew Ryan Abdul manages Ameera's other location in the Public Market House on Monument Square, which opened last year.
"My uncle bought the shop on Forest Avenue in 2014," Abdul says. "It was already a bakery." Now it's quite a bit more. "We have hummus plus baba ganoush, tabbouleh, the sambusas, kebabs, shawarma, the spinach pies, even desserts."
The two locations attract very different clienteles. "In the Market House, I rarely see anyone from the Middle East. But on Forest Avenue, there's a giant community," Ryan says.  "My uncle gives discounts for refugees. Lots of Iraqis go there, and Somalis. The Somalis love our sambusas."
At the Wednesday Farmer's Market in Monument Square, we catch up with Ryan and Ahmed in front of the Market House. The sambusas have already sold out. When asked about the company's name, Ahmed says, "Ameera is my daughter–she is now four. It means 'Princess.'"
On the phone later, I ask Ryan, who is 20 years old and came here in 2013 from Baghdad, how he accounts for Portland's love affair with Middle Eastern food.
"Americans love ethnic foods. Iraqis see it as an advantage. We just give it to them."
That's it?
"It's not that hard to figure out," he says, with the cheerful confidence of youth.
OLD PORT PLAYERS
At Evo, the glass jewel box of a restaurant in the Hyatt Place Portland on Fore Street, chef Matt Ginn comes at the trend from a different angle. He believes New England and the Eastern Mediterranean have a lot in common.
"In the summertime, outside of lemon and olives, we can get pretty much all our Mediterranean-type produce and seafood, lamb, and other local meats right here," he says. "Beautiful little eggplant varieties, tomatoes, cucumbers, even kousa squash–a real Mediterranean summer squash."
Before coming to Evo, "I staged at Oleana in Cambridge"–one of chef and cookbook author Ana Sortun's renowned Middle Eastern-influenced restaurants—"to see how New England does Eastern Mediterranean."
Evo's menu glitters with Eastern riffs–spanakopita and grape leaves, a falafel wrap, an Israeli egg dish called shakshuka, and sides like tabbouleh and Israeli salad. An order of chickpea fries arrives as a stack of what look like thick French fries but are actually silken logs made of tender chickpea semolina garnished with harissa yogurt and dabs of red pepper puree.
The open kitchen is small, but Ginn's team makes efficient use of it. Hagai Bernstein, the young Israeli sous-chef, clears the stainless work table every morning and bakes all the breads for the day. Bernstein delivers a side dish containing a dab of labneh (yogurt cheese) indented with a well of za'atar-seasoned olive oil. This is flanked by one of his puffed pita rounds and a chopped salad of tomato, cucumber, and red onion seasoned with sumac.
At Tiqa, the pan-Mediterranean-themed restaurant on Commercial Street in the Marriott Hotel, Deen Haleem, co-owner with his wife, Carol Mitchell, sees Middle Eastern food today as mainstream. Its popularity grows "as more and more people are getting exposed to it. And it leans on vegetarian and vegan dishes," though there are nevertheless plenty of meat options. "Hummus has been in the supermarket for years. You can find plenty of young people who have no idea it's ethnic food," he says.
Tiqa's menu includes Lebanese fried cauliflower with herbed labneh, Syrian hummus, Turkish kefta (meatballs), a Levantine mezze platter, and a pan-Mediterranean kabob platter. "The most common street food kabobs in Iraq are called Tiqa," Haleem says. Each dish on Tiqa's menu is tagged with its country or region of origin.
Haleem is Palestinian; his family immigrated to Chicago when he was eight. He ended up in Portland "when I met Carol," he says. "She's Lebanese, from Lewiston–there's a huge Lebanese community there."
Tiqa's location on the Old Port and in a hotel means patrons come from far and wide. "We get customers from all over Africa and the Middle East–Moroccans, Turks. And lots of Lebanese! We've been really blessed."
EAST BAYSIDE
It's just really excellent and healthy food," says Jenna Friedman, who owns Baharat restaurant with Clayton Norris on Anderson Street in East Bayside. Friedman and Norris's food truck, C.N. Shawarma, was an Eastern Promenade fixture in summers past, from which they sold juicy, spicy chicken shawarma in gyro wraps.
Neither Norris nor Friedman grew up with the cuisine. "We learned to love this food from living in bigger cities like New York, where it's everywhere," says Friedman. Baharat's menu offers the "Shawarmageddon," described as "a favorite from the food truck, a plus-sized sandwich with chicken, falafel, house fries, and all the sauce." "We get all our spices from Gryffon Ridge [the organic spice merchants in Dresden] and from the Sindibad Market."
A mezze plate of falafel balls fragrant with mint and cilantro is served with tzatziki dip and spicy, bright roasted-red-pepper sauce. It's just the thing with a local craft draft at cocktail hour with Baharat's "garage door" panels rolled up to let in the summer breeze.
TAKEOUT OASIS
Tara Rancourt and Scott Ryan brought extensive restaurant experience in Boston, New York, and D.C. to Portland in 2015. A serendipitous meeting with Paul Farrell, who owns Union Bagel on Cumberland Avenue, resulted in Falafel Underground @ Union Bagel Co. debuting in the spring of 2016. It operates as a takeout falafel and small-plates shop four evenings a week, opening at 4 p.m. after the bagel shop closes. Look for the sidewalk sign that reads "Keep Calm And Falafel On."
The food is vegetarian, organic, homemade, and local where possible. "This cuisine leans naturally to vegetarian and vegan cuisine," says Ryan. The menu is based around falafel sandwiches on their homemade pita bread. The sides include stuffed grape leaves, shaved and dressed cabbage, shredded carrot salad, and Israeli pickles.
"Our falafels are the traditional Israeli shape," says Ryan as he places a small puck-shaped disk on a plate with dabs of three sauces. "You find different shapes throughout the Middle East. This is zhug." He points to the sauce made bright green with cilantro, parsley, and jalapeño. The taste is irresistibly hot and spicy. There's also a mild, Israeli-style tahini sauce and a bright-yellow Iraqi-style sauce made of fresh mango pickled by Ryan and seasoned with turmeric and fenugreek. The hot, fruity taste is a revelation.
Like the owners of Baharat, Rancourt and Ryan didn't grow up with these foods. "We get folks from all parts of the city, folks from other countries."
Right now is the perfect time to try Levantine cuisine without leaving city limits. You can feast on the delicious dishes and celebrate the cultural traditions that it represents, content in the knowledge that adventure deepens with great taste.