July/August 2017 | view this story as a .pdf
Fresh Latitudes
By Claire Z. Cramer
You'll come for the view, but you'll return for the food.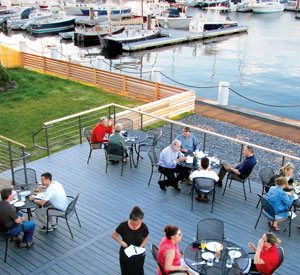 Spring Point is a hot spot again! North 43, the shiny new restaurant with non-stop windows at Port Harbor Marine, succeeds right out of the gate.
Two experienced restaurateurs have combined forces to create a sleek but cozy hang-out. Co-owners Laura Argitis, who also owns the Old Port Sea Grill, and chef Stephanie Brown from the former Sea Grass Bistro in Yarmouth have managed to create an atmosphere in which first dates, girls' nights out, couples, and families of all ages feel welcome.
From a short but smart list of wines by the glass we choose a tart, grassy Neil Ellis Sauvignon Blanc from South Africa and smooth Steele Cuvee Chardonnay from California (each $11). These are served in pretty, tall goblets etched with "43°" to signify the north latitude coordinate on the globe for which the place is named.
Our window seat overlooks a crowded patio and a boat-packed marina. The bay beckons with a glimpse of Munjoy Hill in the distance. A second dining room upstairs has its own deck as well. The modern box of varnished wood, industrial-chic siding, and windows is designed so everyone has a great seat.
An appetizer of Korean beef ribs ($11) gleams with dark, concentrated sweet/savory sauce, and the meat (served boneless, a bonus) is gloriously tender. The accompanying grated carrot salad tossed in an Asian-style peanut sauce is a nice counterpoint.
Local mussels surprise and delight the moment we dip into their rich broth in the bowl. There's shaved fresh fennel in the wine-and-shallot beurre blanc, cleverly accented with caramelized nuggets of smoky andouille sausage. With this great combination, Chef Brown has made a common shellfish starter into something to return for.
Choosing entrees isn't easy among favorites like scallops, rack of lamb, and halibut. But our choice of Lobster Scampi ($29) with house-made pasta in a lemon, shallot, and wine sauce with a bit of romano feels like hitting the jackpot. Tender, sweet pieces of tail, knuckle, and claw meat are heaped in a nest of silken, wide tagliatelle noodles. Everything sings with the bright lemony sauce–the dish manages to be gloriously rich and delicate at the same time. A scattering of micro-greens and scallion rings adds just the right peppery accent. Here again, the kitchen has turned the familiar into something truly special.
Caprese-grilled sirloin steak ($32) arrives topped with nicely grilled grape tomatoes and a grill-charred mantle of fresh mozzarella. It's absolutely delicious, and so are the accompanying roasted asparagus spears and hand-cut French fries. We switch to a glass of Goyette Pinot Noir from Sonoma for the steak and a Spanish Marques de Caceres Albarino (each $11) for the lobster.
How about strawberry-rhubarb crisp for dessert ($7)? A soufflé cup topped with nicely browned, buttery crumbs comes with a couple of ripe strawberries on the side. It appears demure enough, but dip through the crust to discover a sensuous thrill–wildly tart, fruity filling, hot and saucy from the oven. The best seasonal fruit crisp ever? We wouldn't argue.
North 43 seduces with the view and exceptional service before it surprises you, repeatedly, with the food. We hope it won't be long until Mmes. Argitis and Brown start serving brunch.
North 43, 1 Spring Point Dr., South Portland. Dinner Tues.-Sun., 5-9 p.m. 747-4009.