September 2017 | view this story as a .pdf
By Claire Z. Cramer
The new kid on the block brings South-of-the-border flavor to Longfellow Square.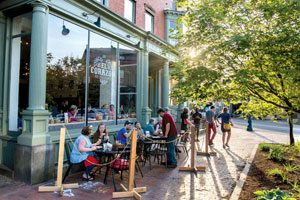 At long last, the empty restaurant storefront on Longfellow Square that was the original home of Petite Jacqueline has come back to life. El Corazon, the popular downtown food truck, has gone brick-and-mortar with a friendly, lively café in this choice spot.
We take a table near the huge front window, with a nice view of Portland's patron-saint poet's statue. The drink menu offers bottled brews, including Mexican beers like Dos Equis, for $4 to $5. Wines by the glass are $7 to $9. Our friendly waitress delivers our choices, a glass of Ramon Bilbao Albarino ($9) and a pint glass of El Corazon's house margarita ($8), pleasingly fruity and free of any sugary bar-mix flavor. As if our minds were read, a complimentary basket of freshly fried tortilla chips and a jaunty little three-legged molcajete of house-made salsa appear before us.
El Corazon's chef, Joseph Urtuzuastegui, is from Arizona, and the menu pays homage to his mother Rosa, who taught him to cook the hearty dishes he grew up with. The menu contains many greatest hits like quesadillas and queso fundido. Wafting kitchen aromas are wonderful, and we are ready to go with the flow.
We start with an appetizer platter ($9.95) of two beef and two chicken taquitos and two beef and two chicken chimichangas, served with guacamole, pico de gallo sauce, housemade crema, and topped with "Chihuahua cheese," which is crumbly and mild, like cotija. The crispy taquitos are rolled into skinny cigars, making them a cinch to eat with our fingers after dipping. Heat can be amped via the bottles of Tapatio and Valentina hot sauces on the table. The chimis, also petite and cut in half, are juicier and a bit more exciting than the taquitos, but maybe that's just us.
At this point, we realize we've just assembled a perfect little bargain happy hour on our table.
We try another appetizer, the coctelas de marisco, or "Portland's own" seafood cocktail ($10.95). This is a gazpacho-like mixture of fresh tomatoes, red onion, jalapeños, and lime juice, into which chopped scallop, shrimp, and squid are mixed. It's served in a glass cylinder and prettily garnished with shrimp, a couple of lobster claws, and slices of avocado. It comes with saltines, but you'll stick with the tortilla chips for scooping the refreshing, piquant tomato mixture.
We are rapidly approaching critical mass. Portions here suggest Mama Rosa never let anyone leave her table hungry. But how to resist chicken enchiladas with mole sauce ($11.95), especially after our waitress has let on that enchiladas are among her favorite things on the menu?
Two corn tortillas filled with shredded chicken and cheese are sauced in a mole that tastes deeply of spices and chiles. Garnishes of queso fresco and crema offer a nice contrast. And, of course, there are beans–served puréed and refried–and yellow rice.
With the entrée, we try a vino verde ($7) and a glass of the house white sangria, made with prickly pear syrup and steeped with jalapeño for a little kick ($6). It's pretty and pink and garnished with lime, as bright and cheery a cocktail you'll ever meet.
The menu, which is quite comprehensive, includes among other things a chili relleno–one of the few vegetarian options ($11.95), tacos (from $10.95), and sopas and tamales (each from $11.95) served as dinners with beans and rice and garnishes.
El Corazon's tag line is "Mexican food from the heart," and that it is. It's also a good value for your dine-out dollar. This cheery little cafe predates the age of hipster small plates and artisanal whatnot in the friendliest possible way.
El Corazon, 190 State St., Portland. Tues.- Sat., 11 a.m.–10 p.m.; Sun. 9 a.m.- 9 p.m. 536-1354