October 2017 | view this story as a .pdf
Portland's West End lucks out with another winner.
By Claire Z. Cramer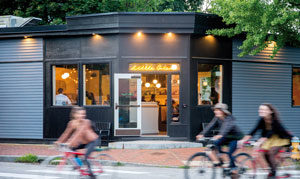 Little Giant, just weeks old, is already a bustling dining hot spot. Andrew and Briana Volk–who brought the wildly successful Hunt + Alpine Club cocktail mecca to the Old Port–have now polished up a storefront cafe at the corner of Danforth and Clark streets.
Where Hunt + Alpine's look is austerely Nordic, Little Giant casts a warm Scandinavian glow that welcomes newcomers with wide-plank floors, a mirror wall, and handsome furniture. We settle into a booth and look straight to the bar menu–a cute booklet that opens with a wry Edna St. Vincent Millay quotation about her "valuable mistakes" and concludes with the lyrics to Springsteen's "Born to Run."  We select a glass of Poderi Cellario's E Bianco ($9), a Spanish white, and–since we're among mixology mavens–The Spirit In The Night ($13), made with rye whiskey, dry curaçao, and Fernet served with a twist of fresh orange peel. A dish of very good marinated olives arrives with the drinks.
Little Giant (the name, like the shout-outs to Millay and Bruce, is apparently nothing more than a cheerful whim of the owners) has an appealing dinner menu for a neighborhood joint. Local bounty is showcased, and prices are reasonable. A 'snack' of Little Biscuits ($6) comes on a wooden board. Spectacularly flaky biscuits frame a smear of maple-whipped lardo topped with neon hot pepper jelly. You won't leave a single crumb.
A nightly special of blistered shishito peppers with a maple-sriracha-bacon drizzle ($8) also charms as a starter. The peppers are expertly charred, and the maple sauce is so addictive we spread it on the last of our Little Biscuits.
Pasta Fra Diavolo ($19), on special, showcases house-made squid-ink pasta. The dish arrives heaped full of calamari rings and tentacles and littleneck clams in the shell with a devilishly spicy red sauce accented with notes of lemon and lemon zest. This deserves a permanent slot on the menu.
And since every neighborhood place has to have a signature burger, we try the LG Burger with JoJos ($12), a classic grilled patty served up on a tender potato bun that tastes exactly like the good old days. American cheese, grilled onions, spicy mayo, and heavenly shredded iceberg lettuce are infused with flavorful grilled-burger juices. JoJos turn out to be hand-cut fries, daintier than steak fries but heftier than skinny frites.
Little Giant's friendly and skilled staff appears to approach service as a shared mission. Their names are even listed in the back of the bar menu. Andrew Volk steps away from the host station to offer tastes of the Chateau du Trignan Roussanne and hearty Pecchinino Dolcetto (each $11 per glass) for our approval before pouring us a glass of each to enjoy with the entrees.
Next time, we'll try the Mushroom Agnolotti ($18) or the seared Rainbow Trout ($22). We also vow to try the whole smoked chicken with potato salad, greens, and cornbread ($35, intended for three or more diners), which we spot on a huge wooden board heading into the dining room, an enchanting barbecue aroma trailing in its wake.
The dessert menu makes an offer we can't refuse: Sweet Corn Ice Cream ($9), served with house-made brioche toast points, a thick sauce of wild blueberries, and a garnish of hot, salted popcorn. It's a feast for the senses and absolutely not to be missed. As with the terrific biscuits, the dessert highlights the talents of pastry chef Darcy Poor. We'd bet her double chocolate cake with Maine raspberry jam is also divine. n
Little Giant, 211 Danforth St., Portland.
Dinner: 3-11 p.m. daily, 747-5045.