November 2017 | view this story as a .pdf
A 'Restaurant with Rooms'
By Claire Z. Cramer
An exciting new restaurant sparkles in an historic, formerly derelict, Congress Street mansion.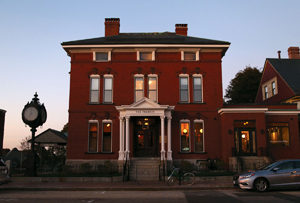 So is this what it might have felt like in the 1880s, having dinner in your stately Queen-Anne Victorian brick mansion designed by Portland's then-superstar architect, Francis Fassett? We ponder the matter at our table in the dining room of Bolster, Snow & Co.
Not exactly. This is nicer, we decide over glasses of Esser Sauvignon Blanc from Monterey ($11) and Sicilian Purato Pinot Grigio ($9) as we munch delicate, crunchy golden Parsnip Chips ($8). And the service is definitely better.
The fact this new restaurant is tucked into the former Mellen E. Bolster House on Congress Street–spectacularly reincarnated as the Francis Hotel after decades of abandonment–is part of the time-machine charm of dining here. The beauty of the restored building welcomes you the moment you enter the hotel foyer, with its soaring ceiling and steep staircase. Peek into adjacent drawing rooms resplendent with tiled fireplaces, stained-glass panels, parquet floors, and honey-golden acres of varnished oak moldings and trim. The hotel's interior furnishings offer strikingly contemporary contrasts, with modern sofas, chairs, and chandeliers.
We share an elaborate appetizer of Duck Confit ($15). Tender, boneless meat is shaped into a cylinder that's sliced and arranged on wafer-thin slices of watermelon radish. These are set over silken roasted winter squash and crumbs of ripe blue cheese. An orange-accented sauce of pureed squash and walnut milk is swooshed prettily alongside. Tiny nests of frisée garnish this delicious creation.
Chef Nicholas Verdisco comes to Bolster, Snow & Co. (named for Mellen Bolster's local dry goods empire) from the Inn at Pound Ridge by Jean-Georges Vongerichten. He knows how to layer up a succession of flavors without blurring them. You'll spot this from the first whisper of togarashi (Japanese chili powder perfumed with ginger, herbs, and spices) on your parsnip chips.
We're even more wowed by the day's catch—sea bass on our visit—served as a whole, pan-seared filet in a sauce containing earthy chanterelles, pickled raisins, and subtle curry oil ($30). The fish is tender and sweet, and the skin crackles. Accompanying florets of cauliflower will convert even the staunchest non-believer.
Wide ribbons of house-made pappardelle sing in combination with luxurious Creamy Corn Boar ($27), an unctuous, imaginative sauce rich with creamed fresh corn and ground boar meat. It's accented brightly with a scattering of black garlic and snipped chives.
Apple Tart ($11) for dessert is a sassy coda to the rich meal, with tart, thin, glazed slices of fruit set on a divinely buttery, crumbly almond crust. A sweet smear of apple butter and tiny cubes of pickled apple offer glorious contrasts. 
Bolster, Snow & Co. captures the special-occasion "getaway" magic of a hotel restaurant, with beautifully set tableware, delicate stemware, and professional service. A delicious new chapter has opened in the history of this gracious landmark. n
Bolster, Snow & Co., 747 Congress St., Portland.
Dinner Mon.-Thurs. 5 – 9 p.m.; Fri. & Sat. till 10:30;
Sun. till 8:30. 772-7496.