December 2017 | view this story as a .pdf
Catch of the Season
Discover BlueFin at the Portland Harbor Hotel, an enchanted oasis in the heart of the hectic holiday Old Port.
By Claire Z. Cramer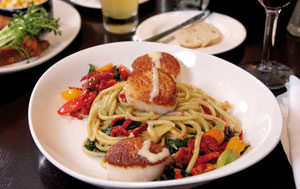 It's a whirlwind day of holiday shopping on the Portland waterfront. Suddenly our feet hurt and we're starving. We sweep up the plush carpeted staircase in the foyer of the Portland Harbor Hotel, past the crackling fire by the bar, and into BlueFin.
In no time, we're settled into cushy wing chairs, glasses of prosecco and Mohua Sauvignon Blanc in hand (each $10), overlooking what used to be known as Eve's at the Garden, a serene, landscaped space used for outdoor dining in summer. A pretty little stone nymph perches at the edge of the decorative pool outside our window. Things are definitely looking up.
The name has changed to BlueFin, but the executive chef at this restaurant is still the talented Tim Labonte, and his menu still makes seafood the star. We can't resist Maine Crab Cakes ($18) laced with spinach, presented on a bed of greens with a delicious grilled-corn tartar sauce and a silken slice of cured lemon. Swooshes of smoked paprika oil race around the edge of the plate. Fresh flavors join forces on the platter to complement the fresh crab without stealing the show.
The crab cakes, like many dishes here, appear on both the lunch and dinner menus. Our Shrimp in the Weeds is another: a salad of tender sweet beets, dressed ribbons of Atlantic kelp, and baby greens ($18). Ginger vinaigrette brightens the sliced beets and greens into something special–the seaweed is a tasty surprise, and it's all topped with a tempting row of cold poached shrimp.
This is turning into just the sort of fancy lunch treat we were looking for.  When we return for dinner, we'll try the Sea Scallop Bucatini with sherry butter sauce and hazelnuts ($34) or the "Clean Shirt Lobster" with split tail and picked claws (market price), or the Grilled Pork Loin Chop with goji barbecue sauce, grilled shishito pepper relish, and farro pilaf ($29). Bluefin is also a tuna-friendly spot, as you'd imagine, with seared rare tuna creations served lunch and dinner.
For this lunch, we share a Maple Chicken Reuben ($14). It's a highly evolved take on this sandwich, made with local chicken, Morse's sauerkraut, and a truly delicious Thousand Island dressing. It's all layered between slices of rye bread that's maple-kissed and toasted to buttery perfection on the grill. The sum of the parts is like the love child of a panini and French toast. It's presented on a wooden board with a basket of just-fried Maine potatoes and a Morse's sour pickle.
Settled in this serene hotel spot, we're so happy to be here instead of elsewhere, standing in line with the herd for oysters. We've lucked into the way holiday celebrations should be. n
BlueFin at the Portland Harbor Hotel, Lunch Mon.-Sat. 11: 30-2; Sun. Brunch 11-2; Dinner daily 5:30-9:30 468 Fore St., 775-9090, portlandharborhotel.com