Winterguide 2018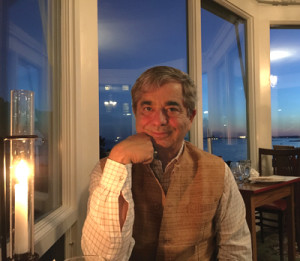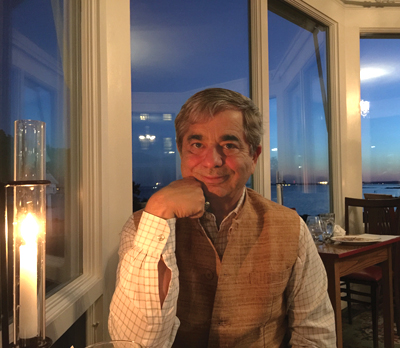 It's not that Hole No. 1 at Portland Country Club is scary in itself. From your dreamy elevation, you're driving across a scenic 180-degree vista down a hill toward the sea. The green seems in reach. It's a magic feeling. The problem is, everyone's watching.
By everyone, I mean everyone in the Portland Country Club dining room. The enormous picture windows fronting the tables are set immediately behind the tee. A big movie is playing, and you're the star up on the screen. What if you miss? Everyone including actor Gary Merrill in a kilt has teed off from here. (Picture that!) But now it's you and you alone. The diners behind you peer over their lobster stew. You set up for the swing…
Scratch golfer Romilly Emmons says, "When somebody misses a shot, diners do bang on the glass!" Also, "On the outdoor deck, there's a gaggle of hecklers ready with their comments, pre- and post-drive. Try not to think about it."
"Sea Turn," a dogleg to the right, is the romantic name for No. 17 at Webhannet Golf Course. The great British Open champion Tony Lema (1934-1966) once drove the 17th green with a soft fade. This urban legend has always gotten into my head, so whenever I've been given a crack at it, I'll always try (with, so far, disastrous results). For me, Champagne Tony Lema's ghost will forever be on the tee of the 17th, driving the green, my golf Siren. It's spookier when you think of Lema dying at just 32 from an aircraft accident in a Beechcraft Bonanza in Lansing, Michigan, while headed for an exhibition on July 24, 1966.
Hole No. 3 at Prout's Neck Country Club. "I grew up playing Prout's Neck," says 2016 Maine Amateur champ John Hayes IV. "The whole course is full of mystique. You're basically on the Atlantic. On No. 3., you're teeing off basically on the beach. I almost got a hole-in-one on this par 4, 340 yards off. The hurricane winds helped. My ball was four feet from the pin." Yikes. Now, everybody's going to try to do it, and we'll be overswinging into the next century.
For Abby Spector, seven-time Maine Women's Amateur state golf champion and 2001 New England Women's amateur champion, it's lucky No. 17 at Riverside, where she is Director of Instruction. "It's a very pretty dogleg to the right with a brook running through the right-hand side of the course. But it's a risk-reward hole, so you can try to cut off the corner and get to the green." If you dare. "I like those risk reward holes. When I pull something like that off, I feel like I'm channeling my old Abby!"
Romilly Emmons also nominates the 17th at Kebo Valley. "In fact, it's my first choice" for a psychologically disturbing hole. "It's a par 4. The hole faces a bunker." It's almost like it's smiling at you. "You're facing this Sahara Desert. Who knows how many balls have hit the edge and dribbled back down into this trap."
No 11 at Sugarloaf is the black hole at a golf course legendary for eating golfers alive. On the tee, they say it's like flying. "It's so elevated," Emmons says. "It's 180 yards down this hill. But because of the height, it plays just 155-160 yards." The illusion exists to suck you in. "You have to clear the Carrabassett River but somehow land before you overshoot the green."
Summer is calling all the shots.