Winterguide 2018 | view this story as a .pdf
Hellenic Heart & Soul
Taverna Khione has its Greek flag flying in Brunswick.
By Claire Z. Cramer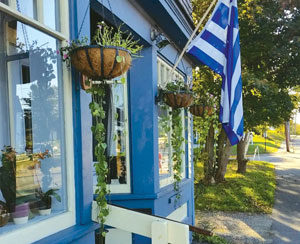 Imagine dinner tonight in sunny Greece–but actually in the dead of winter, in Brunswick. It's not a dream. Taverna Khione, a new, spotless downtown storefront café, named for the goddess of snow and daughter of the god of the North Wind, makes it happen.
We step under the Greek flag waving above the front door and inside to the soft sound of Greek folk music. Chef/owner Marc Provencher has furnished the airy dining room with simple but handsome wooden tables and chairs. There's a cozy bar on one wall, backed with built-in wine racks.
From the extensive all-Greek wine list we select a glass each of Lyrarakis Thrapsasiri ($10) and Gai'a Wild Fermented Assyrtiko ($12). Both have that unmistakably austere yet fruity quality of good Greek white wine. Beer selections are mostly pedigreed local craft brews. All drinks are served in delicate, attractive stemware, a nice departure from strictly rustic taverna style.
Our terrific server, who knows the menus well, brings us slices of the tender house-made bread and a dab of Fava ($4), a traditional Santorini meze spread made from beans like yellow split peas cooked into a mellow purée and seasoned with onion, garlic, and lemon. The menu also offers classic Taramosalata, Tzatziki, Skordalia (whipped potato and garlic), and Htipiti (whipped feta and grilled red pepper) spreads ($4 each).
Khione's menu is rich in mezethes and orektika–taverna cuisine's beloved snacks and small dishes intended for sharing. We can't resist a barbounia special ($8) on the chalkboard. Dainty fillets of the prized Mediterranean red mullet are sautéed, dressed in a tangy sauce that balances vinegar against golden raisins, and served at room temperature.
Grilled octopus ($14) is meaty and sweet–charred tentacle pieces are served on lemon-dressed fava with briny caper berries. Trahana ($8) is a dish so deeply peasantish that it's a rare treat to find on a restaurant menu. Dried pebbles of ancient-grain trahana pasta are simmered into an oatmeal-thick soup laced with roasted local pumpkin and garnished with toasted pumpkin seeds. It's pure Greek winter comfort food in a bowl.
Khione strikes all the right notes with classic entrees like beef Stifado (beef stew, $24) and divine-looking Arni Paithakia–lamb chops that we spot at the next table served with lemony roast potatoes ($28). Among seafood choices is steamed monkfish with braised leeks ($22). The Lahana Gemiste ($20)–cabbage rolls stuffed with beef and rice dressed in avgolemono sauce–evokes instant yiayia nostalgia. So does the taverna's assortment of charming, flowered, retro dishware of the sort found in the kitchen cupboards of yiayias and other immigrant grandmothers 50 or more years ago.
A plump wedge of pita called Skopelitiki (in the style of the island of Skopelos, $8) is made with meltingly tender braised kale, fennel, leeks, and currants tossed with feta and rolled into phyllo pastry leaves. The rolled pastry is coiled and baked in a buttered tapsi–the traditional round Greek baking pan harkening from the days when home cooks carried their Sunday roast lambs and pitas to the village bakery's wood oven. As delicious as dinner has been thus far, this crisp-crusted savory pie is the star of the show–an expert rendition of Greek country cooking. With it, we sip glasses of Alpha Estate Hedgehog Xinomavro ($12 per glass), a mellow, slightly tannic red with notes of raisin and licorice.
For dessert, there is of course baklava, but we choose the house-made mastiha ice cream ($4). A mild, pleasant pine resin used in baked goods throughout the Eastern Mediterranean, mastiha is one of those mythically medicinal Eastern ingredients like ginger, turmeric, or ginseng that are taken on faith. The ice cream is as delicately flavored and mildly sweet as gelato, and we are enchanted.
Chef Provencher is a former partner in Brunswick's Trattoria and Enoteca Athena cafés, now found under one roof on Maine Street. He first opened Taverna Khione in Shelburne, Vermont, before moving it back to Brunswick this past fall. The New Hampshire native–and grandson of an immigrant yiayia–proves with the food, wine, and unmistakably hospitable vibe of his tavern that he's inherited a Greek soul.
Taverna Khione, serving dinner Tu.–Sat. 5–9 p.m. 25 Mill St., Brunswick; 406-2847; tavernakhione.com.