November 2018 | view this story as a .pdf
"Stingers. And keep them coming."
The East Ender channels the holidays and the past.
By Diane Hudson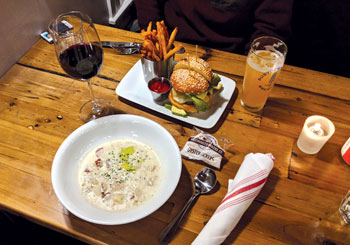 It was a classic cocktail, the Stinger, a staple in Cary Grant movies, that drew us to the East Ender. Having hunted it down for weeks, disappointed time and time again, my friend quite accidentally spotted it here. He folds his hands. "It's listed with the digestifs and desserts."
Arriving for happy hour, (Monday-Saturday, 3:30-5:30 p.m.), we figure why not test the "Bees Knees," ($6) too, before the Stinger? Go with the theme, you know? A brilliant elixir of Beefeater, honey, and lemon, it arrives glowing in a gorgeous crystal goblet reminiscent of my friend's grandparents' time we're treasuring. Bargain-priced snacks beckon, and we inhale the smoked hake dip on buttery club crackers ($5). Very much a comfort food—so familiar yet singular in its smokiness—and clearly heightened by another happy hour libation: a glass of 2016 Ruttenstock Gruner Veltliner, Austria (a steal at $4).
We order the pâté-like Chicken Leg Rillette ($7), served on lightly toasted Pain de Mie (a French pullman bread loaf featuring very little crust). The rich meat, graced with savory seasonings and a light-handed touch of house mustard with a very good pickle (neither sweet nor sour), enhances our bread. Not a crumb remains on our plates.
Delicate and perfectly sized, Bangs Island Mussels ($14) prepared with a fine balance of coconut milk, ginger, lemongrass, and lime are clean and fun to share! The rest of the pullman loaf makes for the perfect dipping instrument.
Shifting gears, we devour the Crunchy Asian Slaw ($10) with ginger chili soy dressing, fried wontons, and roasted peanuts. The soothing dish provides a textured treat before we sail into the Smoked Hake Chowder, a major bargain at $9. We agree: "We'd never make this at home."
At once friendly and familiar, the chowder hints to us that we're tasting the holidays. And that feeling extends to, of all things, the House Smoked Burger ($15)—in a class of its own. I'd rather have it than most any steak I've had recently. It wasn't because we added succulent North Spore mushrooms (+$3). The secrets of it are many, but one they tout is the "cold-smoked" meat process. The burger stays together with a firm yet tender texture within a tasty and manageable schmaltz bun. The melted local Jack cheese is beautifully integrated throughout. The Thrice Cooked Fries sport just the right crispiness on the outside, giving way to a soft, hot middle. Our wines-by-the-glass are outstanding: a 2015 Storypoint Cabernet Sauvignon ($9) and 2015 Castello D'Alba Douro ($8).
For a sweet finish, we share the Sableuse ($9) with fresh, wild Maine blueberries and a vanilla bean cremeux! But wait! We're forgetting the Stinger ($11). Dating to the 1890s, this classic appears gracefully in another crystal glass. Lovingly prepared with Camus VS Elegance Cognac and a housemade crème de menthe, it's a knockout and well worth coming for on its own. Except, who'd want to miss this meal?
East Ender, 47 Middle Street, Portland. Mon.11 a.m.-10 p.m., Tues.-Sat. 11:30 a.m.-10 p.m., Sun. 11 a.m.-5 p.m. 879-7669, eastenderportland.com.