By Ashley Brindamour
In the Clear

$129,900, Robbinston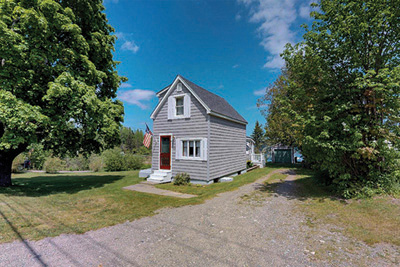 "This part of the world has that coastal Route 1 feel," agent Jessie Howard says of this 1930 seaside home. It's so safe a haven that Robbinston, population: 504, is one of the Maine towns listed in Victor H. Green's 1956 edition of The Negro Travelers' Green Book [see "Pier Review," November 2013]. The now-shuttered Brooks Bluff Cottages, recommended in the Green Book, is a mere two-minute drive from this stunning bargain cottage with open views of St. Andrews. So close to the border with Canada, the only traffic up here comes from traveling boats. "There are a lot of lobster fishermen, mostly going downstream," Howard says. "They dock right at Robbinston Public Boat Landing. The selling couple would often walk the beach to buy lobsters off the boat."
The sellers spent much of their time renovating the property, bringing their coastal inspirations indoors. Painted white walls with wood accents make for what Howard calls a very "cottage" interior. A rustic arched opening connects the kitchen and living area, and slanted wooden ceilings add a warmth to the upstairs bedrooms.
"If it weren't for the distance this location poses between the current owners and their grandchildren," Howard says, "they'd likely stay."
If you're a fan of friendly people, jaw-dropping beauty, and getting first pick of the world's fresh seafood supply, this coastal gem could be your forever seaside vacation.
Taxes: $1,453; 607 US Route 1, Robbinston.
Along the Route
$209,000, Deer Isle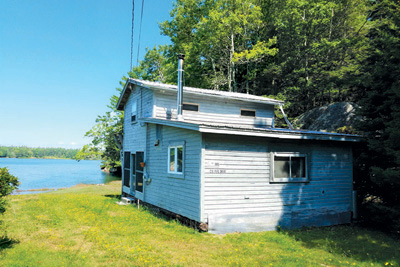 Twenty-four Fife Drive in Deer Isle sits on the water's edge of Greenlaw Cove, a legendary canoe route used as a "superhighway" for the People of the Dawn, according to anthropologist William Haviland. "Greenlaw Cove was a branch of the Deer Isle canoe route that connected with the Walker's Pond-Bagaduce route to Castine," Haviland says. "It was in use for about 3,000 years by the Etchemin Indians and their ancestors, not to mention their descendants, who with their Abenaki allies became known as Penobscots. They continued to use this canoe route well into the 20th century." What better place to put your paddle in the water?
"I love the location of this sweet cottage," agent Cindi Eaton says, "It's truly a rustic Maine getaway and a dream spot for families and kids to explore."
The coast is reflected in what Eaton calls a "rustic and eclectic interior"—with rope spools for tables and driftwood logs for seating.
Peter and Valerie Fife have owned the property for over 30 years, decorating it along the way with personal beach treasures. The family spent many summer days clamming, swimming, and paddling—memories they cherish.
The property is a short distance away from Nervous Nellie's Jams and Jellies, Haystack Mountain School of Crafts, and Deer Isle Village. Island Heritage Trust's Tennis Preserve is within four miles and offers even more outdoor adventure. With 7.8 acres of land, the possibilities are endless.
Taxes: $1,770; 24 Fife Drive, Deer Isle.
Triple Threat
$210,000, Whiting
In Maine we don't have to choose between sprawling fields, wooded trails, or cliff-bound coves. We've got the best of all three, and the ranch-style home at 1029 Cutler Road in East Machias is a testament to that. The home is listed at $210K and nestled in the coastal community of Holme's Bay. Views of the bay glow as the morning sun spills into the windows. Current sellers called this their "waterfront gem."
"The house is elevated with a significant drop, which makes the view exceptional," Nicole Ball at Better Homes and Garden Real Estate says. "Lots of sunlight, moonlight, and 155 feet of waterfront."
Built in 1977, the property has held more than one family and works as a year-round or summer rental home. The current seller acquired the property in 2007 and claims that the view is what grabbed her. "The lighthouse, the island, and the red slow blink of the tower lights at night, as well as the tide changes, shorebirds, and the wild blueberries all speak for themselves."
Imagine yourself eating breakfast cozied in your dining nook. Better yet, bask in the sunlight on the deck, gin and tonic in hand as you gaze across the bay at Sprague's Neck. Take a walk to a nearby blueberry field or down the bay to the boat launch, where clammers are hard at work. Gardner Lake boasts some great salmon fishing, but you'll need to work the locals for those spots.
Taxes: $2,099; 1029 Cutler Road, Whiting
Built For Two
$225,000, Cutler
"It's a light, bright, pretty home with terrific views of the ocean," Nicole Ball says of 105 Ackley Road in Cutler. This four-acre property, cradled by sloped pastures and crowned with crisp green pines, has a lawn that could host two houses. But who wants to share?
The seller—whose last name was Ackler before marriage—had the house built by the late Victor Berry in 2001 on inherited land that has been in her family since before the Revolutionary War. Berry was a highly sought-after builder who supervised the construction of Washington County Jail and Courthouse and the library at the University of Maine.
The home boasts 412 feet of waterfront, a public paved road, and easy access to town–the perfect mix of quiet solitude and happy locals. The best company? Deer, turkey, and foxes are regular visitors.
The potential for the interior is even better—it's a blank canvas. "The second floor isn't shown, because it isn't finished," Ball says. "But it's insulated and ready to be completed." With a little bit of elbow grease and an eye for design, this steps-from-the-water home is just a step away from being yours.
Taxes: $4,938; 105 Ackley Road, Cutler.
Moonstruck
$187,500, Perry
Your tires rumble up the road as you pull into a long, wooded driveway. Up ahead, bundled in 3.9 acres of Perry woodlands on the shore of Half Moon Cove in Cobscook Bay, sits a gambrel-style cottage.
"Sandra Pottle had the house built in 1990," agent Kevin Raye says. "It was built by her brother-in-law Roy Pottle, a respected local builder." The gambrel roof is a signature Pottle touch. "He used rugged lumber cut at his own sawmill in the neighboring town of Pembroke. Roy's son, Tommy Pottle, runs that sawmill today."
A steep stairway offers access to the rocky cove below. Or just enjoy drinking a Harbor Lights from your half wrap-around deck—a perfect perch for views of Passamaquoddy Bay to Canada. Mostly used as a summer home, this three-bedroom, two-bath cottage is fully winterized. With a detached two-car garage, you don't even have to hassle with winter morning snow scraping. Talk about bougie.
Wait until you see the cottage interior. "Cedar and pine, including beautiful wide pine board floors, lend a rustic feel throughout the house," Raye says. "The kitchen and dining area open to the main living area, while an all-season insulated porch [boasts] views of the water. It serves as a second living room."
Just a three-mile drive to the closest local shops and eight miles from downtown Eastport, the cottage combines year-round convenience with starry serenity.
Taxes: $3,836.25; 512 Old Eastport Road, Perry.