First a tennis star, then a yacht designer. Who doesn't love The Sears Cottage?
By Colin W. Sargent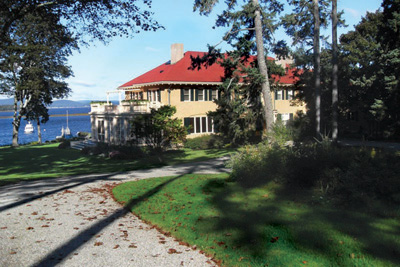 Perched on 21 soaring acres with 1,110 feet of jaw-dropping views of Gilkey Harbor Bay, the Sears Cottage on Islesboro was designed in 1908 by society architect Guy Lowell for tennis star Richard D. Sears, a Harvard grad who won seven consecutive national singles championships from 1881-1887 and was in the first wave of Americans to play at Wimbledon, in 1884. When Sears passed away, another celebrity sportsman sailed in: Frank Cabot Paine of America's Cup fame.
HOLDING COURT
In Maine, the Sears Cottage was the talk of the island as it took shape with a carriage house and stable, billiard house, reading room, staff quarters, private pond, walls of roses, and long deepwater dock—amenities still present today, according to LandVest, the listing firm asking $8.975M.
Sears must have specified a pantheon in the wilderness, because that's what Guy Lowell served up at 135 West Shore Drive. Pillars, terraces, pergolas, awnings, and a stucco façade completed the illusion fitting for a Mayflower descendant and grandson of U.S. Senator David Sears, who personally developed the lion's share of Brookline, Massachusetts.
LAUNCHING A NEW LEGACY
In April, 1943, Richard died. In 1944, his wife, Eleanor Cochrane Sears, sold the nine-bedroom, 9,896-square-foot Renaissance Revival mansion to another proper Bostonian—yachtsman Paine, who owned and designed many America's Cup defenders.
Loveliest of these vessels was perhaps the J-Class Yankee, shown right during her launch in 1930.
YOUR TURN AT THE WHEEL
Today, eleven fireplaces still warm this yare home. The kitchen with slate fireplace is in museum-quality condition. The tall cabinets in the butler's pantry whisk visitors back to another time.
Frank Paine knew what the term "fetch" means to a sailor. It's the distance the wind travels until it hits you. Time and design have converged from great distances to create the Sears Cottage as it is today. It is certainly "fetching." This summer, it will fetch a handsome price.
Are you game?