April 2019 | view full story as .pdf
These resorts welcomed stars and became a part of Hollywood history.
By Olivia Gunn Kotsishevskaya and Catherine Bart
Screamcation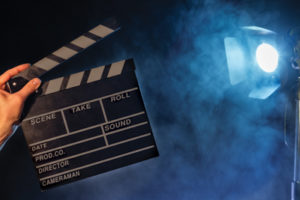 On an abandoned island off the coast of Maine… This alone is promise for a most chilling storyline. Cue fog, crashing waves, and John Carpenter-esque intro synths and you've got yourself a horror film (or a Mainer's dream vacation). On fictional Tucker Island in Tess Gerritsen's Island Zero, the characters' cozy ocean life turns nightmare when they find themselves "cut off from the outside world" and neighbors begin to disappear.
Shot in and around Camden and Rockport, the 2018 film was directed by the bestselling author's son, Josh Gerritsen, who says location was key. To maintain the film's eerie, aged aesthetic, they needed "locations that gave a sense of history and soul." Two midcoast inns, Swan House and Victorian By The Sea, "fit the bill perfectly."
Camden's Swan House B&B, an 1870 Victorian, got its fill of action during shooting. "We needed a room that felt rustic and large enough to allow multiple actors to move around the space," Josh says. "We staged a big fight scene there that required more room than the average inn offered."
As for the romantic, coastal gem Victorian By The Sea in Lincolnville, guests were delighted to learn the bright, airy inn was chosen for the horror film. At the time, it was owned by Robert and Jeanne Short.
"It gave us just what we were looking for: an entrance that had a fireplace and a grand staircase," Josh says. "These components were crucial for a big, gruesome scene, and they had just what we needed."
Caroline Cole, who bought the inn after production finished, has yet to view the final product. "I really don't see those kinds of films. I'm an alternative health practitioner, and I try to keep a sense of zen. In fact," she says, "a film producer came to me a few months ago about filming, and I actually declined. That energy is not for me. The entire breakfast room looks over the ocean, and the place is filled with light. It almost does an injustice to it."
The contrast between the inn's reality and what we see in Island Zero is stark. Luckily for Cole and her visitors, the film's cleanup crew did a spectacular job. It's a testament to the magic of filmmaking—we can be whisked away to an alien invasion right here on our romantic coast of Maine.
Crawford's Spring of Youth
It's somewhat of a town legend now. Hollywood high priestess Joan Crawford storms through Poland Spring, Pepsi Colas in her wake (did anyone offer her a Moxie?). Wolf Cove Inn would be marked for eternity.
In 1963, the 11-room estate, a former summer retreat built in 1894, existed as Lobster-Land on the Lake. It would be the set for an episode of the TV show Route 66, which followed two young men finding themselves as they road tripped across the country. An episode guest-starring Crawford would have a scene shot on the property. But why not hear the story from someone who was there? Portland's beloved arts critic and actress Fritzi Cohen remembered "Mama Crawford" well.
"…I worked briefly with superstar Joan Crawford at Poland Spring, Maine, in 'Same Picture, Different Frame,' an episode of the television series Route 66. At the time, Ms. Crawford was married to the Pepsi Cola magnate and she was Lady Bountiful, dispensing Pepsi to the peons on the set. I played a librarian in a scene with Patrick O'Neal. The scenario is that he sees me and remembers Crawford in the same setting years before. There's a dissolve, and I become Joan in his mind. I'd had my hair done, lots of makeup—the works. The word came down that Ms. Crawford needed no competition, so my makeup was removed and my hair was pulled back off the face and dowdy. Only then was the star pacified."
Shh… Can't you hear it? The crisp crack of a soda can among the whispers of pines along the shore of Tripp Lake.
Summer Sizzle Reel
In June 1957, crews started filming Peyton Place, the salacious story of a proper New England town overflowing with scandal. They'd take over the towns of Camden and Belfast.
In Camden, it was the highlight of the summer. "Other towns had turned them down flat because they didn't want to be associated with Peyton Place. It was a pretty racy, steamy novel," librarian Ken Gross says.
"Looking back, it was almost like a carnival-type atmosphere," says Todd McIntosh, one of the locals you can see on screen in a James Dean-style red jacket. "The producers, directors, they allowed a lot of townspeople to mill around the locations. And when we were told, 'Quiet on the set,' we quieted down. People were allowed to kind of mingle in and out and talk with some of the stars and the production crew."
Adapted from the best-selling novel by Grace Metalious, the film was directed by Mark Robson and starred Lana Turner, though she never visited Camden.
One local star, however, was ready for her closeup. Whitehall, known as Whitehall Inn at the time of filming, overlooks High Street, not far from the harbor. It's been operating as a hotel since the early 1900s when it was expanded from the original 1834 sea captain's house. You can spot our silver screen queen almost two hours in when Allison, Diane Varsi, stops at a local bar upon returning to Peyton Place.
General manager Gwen Clemens says that although the inn's part in the movie is small, it's not insignificant. "We still get tourists who come by because they recognize the inn from the film," she says. "It's an integral part of Camden. That's probably why they picked it."
Besides Peyton Place, Whitehall can be spotted in the 1996 adaptation of Stephen King's horror novel Thinner.
Sleep Like a Star
An affair, a body, and the beauty of glistening Phippsburg beaches—turns out it's the perfect equation for a forty percent on Rotten Tomatoes. Released in 1996, starring Cameron Diaz and Harvey Keitel, Head Above Water is a dark comedy that takes place in a private cottage on Lincoln Beach.
Sebasco Harbor Resort owner Bob Smith took over a year after the film was released. "All of the underwater scenes were shot in the big pool at Sebasco. They threw seaweed in there to make it murky and look like a lagoon. But it was fall and chilly. Apparently, Cameron Diaz came close to turning blue from so many takes. I guess it looked like they were shooting a Martian movie."
The majority of scenes were shot in a temporary cottage built for the film, but Smith says a lot of filming took place around the beaches near the resort.
Turned out, Head Above Water producer Jim Wilson took a liking to the area. Message in a Bottle would start filming in town a year later starring Kevin Costner, Robin Wright, and Paul Newman.
"Some of the crew for that movie stayed here," Sebasco Harbor Resort's Bob Smith says. "Paul Newman showed up with his daughter. He wanted to have dinner, but we'd already closed. The security guard at the time fashioned himself as kind of an actor—he'd been in a senior film. He told Newman, 'I think they closed.' Newman said, 'I wouldn't normally do this, but can you let them know it's Paul Newman.' The guard looked right at him and said, 'Yeah, and I'm Kevin Costner!' His eyes almost bugged out of his head when he realized about two seconds later."
Well, did Cool Hand Luke get his meal? "Are you kidding me? You can't say no to Paul Newman."