April 2019 | view full story as .pdf
Maine opens up with great excitement looking toward the season.
By Colin W. Sargent
Our summers have seductive rhythms.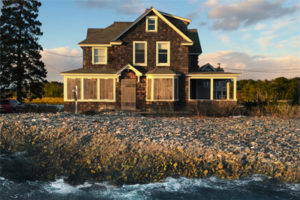 Inhabiting a classic Maine summer cottage is a vivid experience with a cherished set of rituals. Kennebunk's 49 Great Hill Road is a stunning example. Built in the "late 1800s" with a private beach out front and river frontage in back, today it's for sale for $1.399M.
A Rose on the Shore
Its interior is rustic beadboard. The sea sparkles in nearly all the rooms, including a grand salon with fireplace. Light follows into a generous dining room with built-ins that opens to the kitchen. Most magic of all, the cottage follows an enchanting rhythm where it's winterized every year. The water is cut off, the furniture covered with spare white sheets, the windows boarded from storms and then unveiled every summer.
In this unveiling ritual, the dusty sheets are carefully rolled off the ghostly slumbering furniture, to be taken outside for a wind bath. The winter's salt glaze is carefully removed with Windex and newspapers (the ink is the secret that leaves no streak) to reveal the ocean stretching all the way to England.
This view includes Nubble Light, Boon Island, and Strawberry Island, the old stone causeway disappearing at high tide. Gulls wheel in the winds overhead. Steps away, the historic promontory Great Hill lifts high above sea level. For centuries it was a landmark to First Nations people and ships at sea. A famous privateer battle happened in front of this house. On May 19, 1813, during the War of 1812, the British sloop Rattler, in company with the schooner Bream, captured the American privateer Alexander as she headed to Salem. Run aground by the two British warships, the Alexander was seized and taken to New Brunswick, Canada, as a prize.
Nostalgia Dose
"When cottages like these were built, there was no plan to spend the winter in Maine," says listing agent Bette Schofield. "Families traveled by train from Boston or Philadelphia" to rusticate up here. "The lot is about a quarter of an acre. There's 55 feet of oceanfront, 75 feet of riverfront."
In any of the eleven rooms, "a new buyer will fall in love with this house because they're reminded of a childhood in Maine–maybe a camp they went to." Or a sailing school with a boathouse, a great uncle's cottage–a place out of the wind and safe from time. Old books conjure up multiple generations and a smell of the sea.
The house is so close to the ocean it seems to rise and fall with the waves. We can almost smell the scent of blueberry muffins baking in the kitchen. What would it be like to walk your dog on your own beach? The historic Mousam River at your back door is a memorable place to kayak.
Meanwhile, the younger generation of the family who's lived here many years are going to miss it. "I've been going up there since I was born," Jonathan Grinder, 60, says. "My grandfather bought it in the 1920s. During college, you know, you miss a few years. I may have missed five, but I remember one year arriving before anyone else. It was pitch dark, around 11 p.m. I couldn't see anything, but I remember walking through and knowing instinctively where all of the furniture was, where all of the lights were. It's in my DNA."
Jonathan owns an athletic events company. His brother, Tim, is an art dealer. His sister, Beth, is a faculty member at Penn State University (she has a Ph.D. in Curriculum and Instruction). The world calls. Who's calling you?