Portland Monthly Wins Seven National Prizes at the 2017 American Graphic Design Awards.
NEW YORK– Portland Monthly is recognized with seven prizes at the prestigious national American Graphic Design Awards for design excellence by Graphic Design USA.
The American Graphic Design Awards is a nationwide, juried competition from one of the most respected design-industry resources. The awards have been presented for over five decades, and the judges are composed of industry leaders in all aspects of graphic design. Read more…
Flying Into Authorship: Colin Sargent Discusses Writing, Piloting Education…
Colin Sargent, a poet, playwright, novelist and founder of Portland Magazine, began teaching English at the College of William and Mary just this semester, but he is already inspired by the rich history and traditions that he has observed while on campus. Read more…
Portland Monthly
Advertising Director, Nicole Barna, Proudly Continues Role As Treasurer of The Ad Club of Maine.
Nicole Barna has served as treasurer of The Ad Club for the past two years and enjoys leading the advertising team at Portland Magazine. You can find out more about The Ad Club online.
Portland Monthly
 founding editor and publisher 
Colin W. Sargent
, Ph.D., is joining the faculty at The College of William and Mary as an adjunct writing professor in the English Department.
Concurrent with his work at Portland Monthly, he'll be teaching "Know Your Audience" across multiple genres to William and Mary's emerging writers in the Fall 2017 semester. For the Spring 2018 semester, he'll be teaching "Writing for Magazines." MediaBistro.com has twice profiled Portland Monthly as one of the most influential magazine markets for writers in the country. He has mentored more than 300 editorial and graphics interns over our 32-year history, many of whom have gone on to significant writing careers.
Portland Monthly's founding editor and publisher Colin W. Sargent was a panel member at the Historical Novel Society's 7th Annual North American Conference in Portland, Oregon, this summer. Joining distinguished panelists David Ebershoff (The Danish Girl), Mary Burns (Portraits of the Artist), Stephanie Cowell (The Players: A Novel of the Young Shakespeare), Yves Fey (Floats the Dark Shadow), and Linda Ulleseit (Under the Almond Trees) in discussing the 'beauty of the outcast,' Sargent presented his novel The Boston Castrato (Barbican Press, London), which was nominated for the 2016 Man Booker prize. FMI, visit www.colinwsargent.com.
Portland Monthly Designer Tops Industry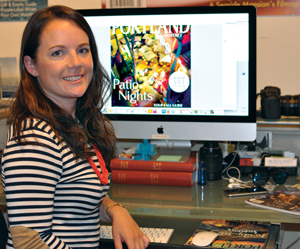 Portland Monthly is proud to announce that our Design Director, Meaghan Maurice, has been selected as one of FOLIO's "30 Under 30" honorees along with rising stars from The Atlantic, Condé Nast, GQ, Men's Health, Playboy, Glamour, and InStyle. FOLIO is the leading professional publishing resource behind the magazine and digital media industry's largest conference, The FOLIO Show; the premier publishing trade publication FOLIO Magazine; and numerous acclaimed enterprises critical to the promotion of the publishing business. To see the full list, visit www.foliomag.com/events/folio-30-under-30-awards-luncheon-2017/. The presentation of awards will be celebrated with a luncheon at Hilton Midtown in Manhattan on October 10. "The FOLIO: 30 Under 30 is a collection of the brightest magazine media individuals under the age of 30 who are executing on some of our industry's most innovative ideas."
The team at 31-year-old Portland Monthly is celebrating but is not surprised by Meaghan's success, which not only represents the innovative, creative character of our publication but of Portland, Maine, and its entire creative population. Meaghan began her career as our Design Intern and progressed to the position of Design Director, the leader of our Graphic Department. Her thoughtful designs and beautiful photos have time and time again shown our readers that we are Maine's City Magazine. Meaghan's work embodies our goals. Portland Monthly offers an extraordinary perspective that has made us a favorite for readers and lovers of Maine. Meaghan captures that spirit month by month in the pages of Portland Monthly. You can view Meaghan's work here
Founding editor & publisher Colin W. Sargent's short story Dirty Night Bingo is a finalist for the 2017 Col. Darron L. Wright Award.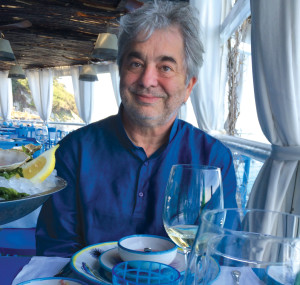 Founding editor & publisher Colin W. Sargent's short story Dirty Night Bingo is a finalist for the 2017 Col. Darron L. Wright Award, conducted by Line of Advance, a venue that "provides a curated platform for the best in writing and other visual arts from American military veterans…Fitzgerald and Bierce, Vonnegut and Hemingway, O'Brien and Salinger. Some of the finest writers in American history served in the U.S. military during times of war. Line of Advance is a non-profit literary journal committed to providing a platform for the voices of the next wave of great American writers."
Read Dirty Night Bingo online!
Maine Sunday Telegram

:
Book review: Real, imagined characters make memorable music in The Boston Castrato
Colin W. Sargent's 1920s novel hits all the right notes on accuracy and fervor.
What a dream! What a song! Portland author Colin W. Sargent's second novel, The Boston Castrato, is a whirlwind tale, abounding in fully realized historical and imagined characters, with convincing yet phantasmagoric settings that suggest a mild hallucinogen. Storylines appear to veer in all directions, but never fear, there is a core trajectory.
Shot through with wordplay that a few readers might term cruel and unusual punishment, the book is a nonstop delight to read. In spite of what the title might seem to suggest, it proves a love story.
This is the epic story of one Raffi Pesca, a Naples street urchin taken in by a creepy but earnest talent scout of a priest in 1906. The price of this ecclesiastical largesse is Raffi's manhood. The reward: some gold coins and the gift of an extraordinary singing voice. However, high church officials, in a fit of early-20th century political correctness, defrock the priest, close his operation down and inform him that the "church is no longer in the monster business." As with so many situations Raffi will soon encounter, this is the twilight of a tradition.
Not knowing quite what to do with the maimed child, church fathers rename him Rafaele Peach, give him a ticket to America, a start in the new world in a Bronx orphanage smack in the shadow of a neon sign for Underwood deviled ham. That sign, ubiquitous in the Northeast, will play a role over time and place, as both symbol and physical prop.
Adventures move our hero to Boston, Italy and back to the Yankee hub of the universe in the early 1920s, where a bewildering series of events ensnares and informs the now half-worldly, half-naïve but ever-ripening Peach.
At its widest scope, The Boston Castrato, is a first-rate picaresque, which should be read for the pure pleasure of the story, characters and ambiance. There are more circles than "The Divine Comedy," as Sargent weaves together an investigation of the sterilization and sealing of "bad clams," the unfolding of the Sacco and Vanzetti trial and Ezra Pound's savaging of poet Amy Lowell's imagism as "amygism."
Truly, though, it is Sargent's impressive knowledge of place, time, people and spirit that sets the novel spinning on its own internal axis. Indeed, the author states that his insight into Naples was largely gained during his hitch in the Navy as a helicopter pilot and, though the story only resides there briefly, it is most convincing. The reader is bound to ask where Sargent gained such a wondrous, convincing understanding of the Boston literary, cultural and criminal life in the 1920s.
As a great fan of that time and place, then in its gaudy twilight, this reviewer stands in awe of the historical assuredness of place and character-driven pace. Much of the action surges in and around the grand Parker House, a surviving icon.
As the blare of the 1913 Armory Show and Jazz Age swamp the bohemian Brahmins and their minions, and as gifted amateurs are overtaken by professionals, one enters a fantastic world not available in a Frommer's Guide list of worthies, available nowhere else that I am aware of, at least not in such honesty and resplendence. The characters may all wear masks, but in the end they reveal parts of themselves in sober honesty.
In the end too, Boston Brahmin poet Amy Lowell and her presumed literary executioner both lie entombed in the same academic encyclopedias, each given their own devil's due. As for Mr. Peach, he takes his place among literature's delightful and original characters.
–Review by William David Barry
FMI about The Boston Castrato, visit www.colinwsargent.com
February 12, 2016
Associate Publisher Jesse Stenbak profiled in
My brother Saul took a photography class in high school, and he seemed to really enjoy it, so when I got to high school, I took the class too. I really got into it, and I joined the school paper to take pictures. This was in Nashua, New Hampshire, where I grew up. I followed Saul to Keene State, and because of my high school experience I showed up in Elliot Hall for the first meeting of the year of the Equinox, the student newspaper. It became evident in short order that the person they had hired to be their photo editor did not know how to process film, which was very important in those days.
So within the first couple weeks of freshman year, I was the photo editor of the Equinox, because I knew how to develop film. The next year, the Equinox office moved to the new student center, and I became the first person to use the new darkroom there – and the only person, it turned out, because within a couple of years we were transitioning to digital
I initially thought I'd be a history major, but I was hanging out all the time with the Equinox writers and editors, so I decided to go into journalism. I spent probably 50 hours a week at the paper. I shot one or two sports events every weekend, and all the big concerts, and did a variety of pickup assignments. We got to do a lot of things up close and personal. Bill Clinton came right after he was elected, and it was cold and I had to stand outside on a press podium for four hours. But that's part of the job.
Another time three or four of us went down to Washington, DC, to cover a march for women's rights. We got on a bus with a bunch of people from Keene State and rode all night. When we got there we covered the event, the writers wrote about it and I took photos, and we came back and put it in the next issue.I minored in film because my girlfriend, now my wife, was a film major. I met Tori (Horr) the first day of classes my sophomore year, which was her freshman year.I got a job at the Monadnock Ledger down the road in Peterborough right after graduation.
My first assignment was a Memorial Day photo shoot. I remember it particularly well because the photo lab we used had processed my slide film as negative film, so my very first professional experience did not turn out so well. I managed to salvage one photo, though. My job was to take pictures and to scan developed negatives and slides and digitally tone them. I saw a digital camera for the very first time on New Year's Day in 1999, when the marionette theater in Peterborough burned down. A guy from the Boston Globe came up to shoot photos, and he came into our offices to upload the files back to Boston. It was a very exciting time, with production and photography switching over to digital. At the time, I didn't want to make the change to digital photography, because it seemed like we were losing so much quality. But then I realized that with digital I could shoot 400 pictures as opposed to 32. At the Ledger I had an assignment or two that didn't turn out quite right, and I had to go back and reshoot. But you don't realize it's not quite right until you go to the darkroom and process the film. And if it's production night, you're really in a pickle. Now you can look at the photo instantly and know if it's a keeper.
After nine months at the Ledger, I moved to Seattle with my brother, and Tori joined us after she finished up at Keene State. While I was out there, I finished a one-year diploma program in print production at the Art Institute of Seattle.
Tori and I came back to New England after a year, and we got married.We were living at her parents' house south of Bangor, Maine, and coming in to Portland every day to look for jobs. I ended up working for about four weeks at a print shop, and then I saw a listing for an opening at Portland Magazine in Sunday's paper. I sent my resume in on the way to work on Monday, and Tuesday I got a call from the publisher asking me to come in for an interview in an hour. He hired me on the spot. I was production manager from 2000 to 2009, and I've been associate publisher since then. My job has evolved over the years. When I first started, we had to collect for output all the files, and then put them on double-sided DVDs. Each DVD took an hour and a half to copy. So I'd start a disk then I'd go home, come back two hours later, in the middle of the night, flip it, start to reburn it. Nowadays when I send a file, my computer automatically connects all the pdfs for me, and that takes about 30 minutes, and I upload the files to the printer, and that takes 40 minutes. I slowly took on more duties, assigning more stories, managing some staff members. Now my average day may start with an editorial meeting, making sure we've assigned stories and brainstorming ideas for stories, and then I might talk to the designer about graphics, and then to the ad department, making sure they've met their goals. Then changing lightbulbs. I even personally once a month go out and deliver magazines to hotels and visitors centers.
We've gotten bigger. Our big issue last summer was 272 pages. That's a big magazine. And we still produce it with a staff of eight people. We're a small, nimble publication. If we want to change a story at the last minute or add a story before we go to press, we can do that. Our readers are both locals and tourists. The locals really love our profiles of people who live around town and discovering new restaurants. The tourists are looking for things to do when they visit. The tag line of the magazine is 'Extraordinary Perspectives,' so we try to find neat, weird, strange facts about things that you didn't necessarily know, but as soon as our readers read them, they're like, Oh! We go to extraordinary lengths to find out even the smallest facts to make the story so much better.
A couple of years ago, the city of Portland voted to elect its mayor rather than have the council appoint one of its own members. People knew about the vote, but no one understood that the reason Portland did not have an elected mayor was the Ku Klux Klan, back in the '30s, didn't want the Irish and Italians to run the city. The newspapers were writing about the ballot initiative itself, but we gave the story historical context.We ran a fun story a while back about the Elliotts, the family of comedians.
One of our interns spotted Abby Elliot, who was on Saturday Night Live, in Portland. Her dad, Chris Elliot, was in the movie Something about Mary, and his dad, Bob Elliot, is from the Bob and Ray Show.. So we Googled and found out the whole family summers in Maine. But how could we get in touch with them? We went through the press office of Saturday Night Live and that didn't work. We tried to reach Chris Elliot and that didn't work. We couldn't find Bob's phone number – it was unlisted – but we did figure out what road he lived on. So I said, Find out what businesses are on that road. Antique shop a quarter mile from his house? Call the shop. So we called the antique shop, they said, Oh, I know Bob, he lives next door. Can you tell Bob to call us? And Bob called us, and that led to an interview with the whole family. It turned out to be a great story.
Most of my time is spent either at work or with the family. Tori and I have a son, Eli, he's eight. Then we have five-year-old twins, Iris and Esme. They're a handful. We love living in the Portland area. There are concerts and restaurants and all sorts of plays and ballet – it's a cultural hub for Maine. And close to Boston. Tori is the volunteer manager for Preble Street, which is a homeless shelter, teen shelter, women's shelter, food pantry, and soup kitchen. At Portland Magazine, we provide a service to the community, too. We sell an ad, we try to make sure it's going to work for the client. We write a story, we try to make sure it's actually interesting to people. We want to say something that's interesting, and we try to do what we do better than anyone else.
June 17, 2013
Portland Magazine Founding Editor & Publisher is Awarded Ph.D. in Creative Writing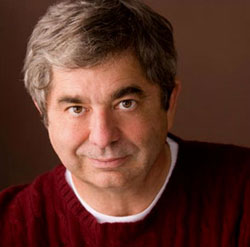 Colin W. Sargent has earned his Ph.D. in Creative Writing. Dr. Sargent successfully defended his dissertation at Lancaster University, Lancaster, UK. His research is in cognitive literary studies that explore reading as an out-of-body experience. The result is both a 380-page novel and a companion exegesis, The Negative Mirror. "Instead of reflecting, it allows you as a reader to disappear completely into a fictional universe," Sargent says. His external examiner was novelist Dr. Martin Goodman (Look Who's Watching), director of the Philip Larkin Centre at University of Hull; his internal examiner was Dr. Jayne Steel (screenplay for the BBC Audience Award-winning psychological thriller Frozen). His Ph.D. mentor Dr. George Green (Hound, Hawk) is the Creative Writing Ph.D. Program Director at Lancaster University, and his supervisor is Dr. Lee Horsley, a senior lecturer in English at Lancaster and an international expert in crime fiction (The Noir Thriller).
Sargent earned his bachelor's degree in English at the United States Naval Academy, Annapolis, Maryland. He was a member of the inaugural graduating class of 2004 at the Stonecoast MFA Program, University of Southern Maine; is a former board member at Maine Writers and  Publishers Alliance (MWPA); and served for five years on the board of trustees of Maine Reads. Sargent is a Maine Touring Artist and was named a 2002 fellow in literature by the Maine Arts Commission.
His first novel, Museum of Human Beings (McBooks, 2009), stalks the imaginary life and times of Jean Baptiste Charbonneau, Sacagawea's son. His new novel, Hiding Nothing, takes place in Italy in 1903 and Boston in 1922, where his main character, Raffi Peach, is a clairvoyant concierge at the Parker House and séances are the social media.
Featured by MediaBistro for daring to go "beyond the usual" and selected for the New York Public Library's permanent collection for its "original regional coverage and literary merit," Sargent's Portland Magazine, est. 1985, has just released Summerguide 2013, a newsstand favorite which sets records in ad pages and covers conceptual terrain such as "Dream Islands," "Wabi-Sabi Maine," and the first short story published by playwright John Cariani (Almost, Maine). For 27 years, Portland Magazine has offered original fiction, featuring stories by writers including Mameve Medwed, Sebastian Junger, Diane Lefer, 2013 Midland Authors Award-winner Jack Driscoll, John Buffalo Mailer, Rick Moody (The Ice Storm), and interviews with Maine-connected writers "from Stephen King to Marguerite Yourcenar to Annie Proulx. We have also published stories by emerging stars such as Joan Connor (AWP winner for History Lessons) and Morgan Callan Rogers (Red Ruby Heart in a Cold Blue Sea)."
Sargent sought the Ph.D., the culmination of five years of concentrated study, "so I could take the magazine's writing to the next level and at the same time demystify the process for our contributors, many of whom connect with their first readers with us." Among the Portland Monthly alumni who've met with publishing success: Hannah Holmes (The Secret Life of Dust), Jason Brown (Driving the Heart), and Gwen Thompson (Men Beware Women). "There is such great talent in and around Maine. I love sharing it with our audience," Sargent says.
For more information, visit www.portlandmagazine.com.
—
October 15, 2012
Portland Magazine congratulates our former intern Gwen Thompson on the publishing of her novel Men Beware Women. Click here for more info on Gwen and her fabulous work of fiction.
October 12 Portland Press Herald Business section:
AWARDS and RECOGNITION
• Portland Magazine won nine national prizes at the American Graphic Design Awards for design excellence by Graphic Design USA.
Congratulations to our 2006 editorial intern Esmé E. Deprez for her new position as reporter of Business Week.
—
FOR IMMEDIATE RELEASE     16 September 2009
Portland Magazine Wins 5 National Prizes at the 2009 American Graphic Design Awards
New York—Portland Magazine captures five prizes at the prestigious national American Graphic Design Awards for design excellence in ceremonies conducted in Manhattan by Graphic Design USA.
The American Graphic Design Awards is a nationwide juried competition from one of the most respected design industry resources. The awards have been presented for over three decades, and the judges are composed of industry leaders in all aspects of graphic design.
Graphic Design USA's prize announcement of the awards, including the individual issues of Portland Magazine that received the honors:
CONGRATULATIONS!
You have been selected as a winner in the 2009 AMERICAN GRAPHIC DESIGN AWARDS.
For more than four decades, Graphic Design USA has sponsored national design competitions that spotlight areas of excellence and opportunity for creative professionals. The American Graphic Design Awards is the biggest and broadest of these, open to everyone in the community: advertising agencies, graphic design firms, corporations, institutions, publishers and more. It honors outstanding work of all kinds and across all media.
For the fourth straight year, we saw a remarkable 8,000+ entries; of these, a highly selective 15 percent are recognized with Awards of Excellence.
Portland Magazine, Winterguide 2008
Portland Magazine, February/March 2008
Portland Magazine, Summerguide 2008
Portland Magazine, December 2008
Portland Magazine, February/March 2009
Again, congratulations and best wishes.
Gordon Kaye–Editor/Publisher, Graphic Design USA            Rachel Goldberg–Awards Director
"Some magazines may win around two to three multiple awards, but it's very difficult to win five," says awards director Rachel Goldberg, noting "I believe Portland Magazine's awards for excellence in publication design are the only ones north of Boston."
Portland Magazine also won multiple American Graphic Design Awards for Design Excellence in 2007 and 2008, as well as six national graphic-design awards for front cover art direction at the annual Maggie Zine Awards sponsored by NewsStand Resource magazine of Greensboro, North Carolina, including First Prize and Best in Show.
"It's a great way to open our silver anniversary celebrations to begin our 25th year," says Robert Witkowski, Portland Magazine's design director.
The full list of award winners will be published in the December 2009 GDUSA Design Annual. Previous publication winners include Condé Nast's SELF, USA Today Weekend Magazine, and BusinessWeek.
FOR IMMEDIATE RELEASE
Attention: Events & Culture Listings Editors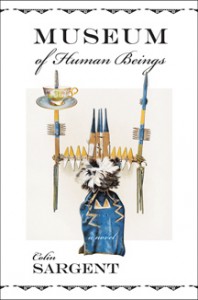 Book Signing & Reading Schedule
Museum of Human Beings (McBooks, hardcover, $23.95)
The acclaimed new novel by Colin Sargent about the fantastic life and times of Jean Baptiste Charbonneau, Sacagawea's son, famous "expedition papoose" of the Lewis & Clark Expedition…Whatever happened to that boy?
Visit www.museumofhumanbeings.com for background info and a media page with downloadable cover art & author photo.
Please include in your books, arts, and entertainment calendar. **For book-cover art and updates, visit "Media" at www.museumofhumanbeings.com.:
3 November, 7 p.m., Reading & Book Discussion, Dyer Library, 371 Main Street, Saco, Maine 04072. Visit www.sacomuseum.org or call 283-3861.
29 November, noon to 3 p.m., Reading and Book Signing, L.L. Bean Retail Store, Main Street, Freeport, ME 04032. www.llbean.com
5 December, 2 p.m., Reading & Book Signing, Borders, 430 Gorham Road, Maine Mall, South Portland, Maine 04106, 207-775-6110
13 December, noon to 3 p.m., Encore Reading and Book Signing, L.L Bean Retail Store, Maine Street, Freeport, ME 04032. www.llbean.com
Reviews
"Spellbinding"—starred review in Library Journal
"Stylish"—Publishers Weekly
"Heart-Wrenching"—Smithsonian Institute
"Rich with unusual historical detail."—Denver Post
"The sweeping American adventure novel "Museum of Human Beings" by Portland publisher, playwright and poet Colin Sargent is one of the most satisfying works of fiction that I have read in years."—Maine Sunday Telegram
Playwright Sargent's debut novel is a stylish look at the fate of Sacagawea's baby son, Jean Baptiste Charbonneau, the first Native American to tour Europe—as a curiosity and entertainment, of course. Twenty-four-year-old Sacagawea, though married, becomes William Clark's lover while helping guide the Lewis and Clark Expedition; after she dies on the trail, Clark adopts her son, Baptiste. Soon, Clark establishes his home in St. Louis, as well as a garish museum dedicated to his expedition, and sets to educating his new son. Soon, Baptiste is traveling Europe under the protection of Duke Paul, a cruel man who, when he isn't exhibiting the boy to royal courts, repeatedly rapes young Baptiste. Six years later, Baptiste returns to America (astonishingly, still accompanied by Paul), where he confronts Clark over his mother's mysterious death; unsatisfied and restless, Baptiste heads west and finds work as a fur trapper, an Army scout and gold prospector. Increasingly haunted by his mother, Baptiste revisits her in memories and visions that lend themselves nicely to Sargent's lyrical prose. With historical cameos (Beethoven, Kit Carson, Washington Irving) and an impressively rounded portrait of the laid-back, introspective, nomadic Baptiste, this novel will satisfy fans of American history.
– Publishers Weekly
Authors on Museum of Human Beings…
"Yikes, there's a market for this. It's timely, it has feminist appeal, it has race appeal, it's so American. The direction of American Literature has been from the East Coast to the West. There's a new trend reversing this, a trend that whispers, 'Somehow we are weary itinerants. Somehow the dream has failed.' Museum of Human Beings is an unraveling of the patriarchy. It's spooky like Hawthorne with a Toni-Morrison-like sense of place. It's a huge and important story."
– Joan Connor, AWP Award winner, for History Lessons
"In pulsating prose that triggers all of the senses, Museum of Human Beings takes us on a spirited journey to discover the far-flung life of Sacagawea's son. Smart, imaginative, and historically-informed, this novel contains heartbreaks of many dimensions, all of them believable and thought-provoking. It captivated me, start to finish."
– Bunny McBride, Pulitzer nominee and author of Women of the Dawn and Molly Spotted Elk: A Penobscot in Paris
"Magic. There is real heart to Museum of Human Beings, real depth and humanity, and in addition a plot that propels this reader forward. Full of polish and authority, as well as a story both cared-about and clearly imagined. I stand to applaud his talent. He's the real thing."
– Jack Driscoll, How Like an Angel
"A grand and interesting romp through history, an intriguing, masterfully written novel about a little-known person in history, Jean Baptiste Charbonneau, the child of Sacagawea."
– Michael C. White, Soul Catcher
---
• According to the June 29 2009 edition of Mainebiz "Portland Magazine recently set an all-time advertising sales record of $229,619 with its Summerguide 2009 issue."
June 4, 2009
FOR IMMEDIATE RELEASE:
Ahead of the Recovery Curve
Portland Magazine breaks all advertising records with Summerguide 2009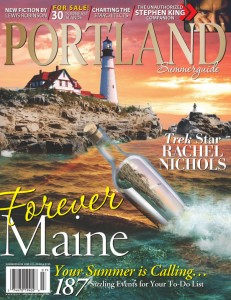 Award-winning Portland Magazine, the city magazine for Maine, launched Maine's summer with a big splash by setting an all-time advertising sales record of $229,619.22 with the highly anticipated Summerguide 2009 issue. "This is the biggest magazine we've had in 23 years-232 luxurious pages that convey the three-dimensional, enveloping, dynamic panorama that is our beautiful state," says founding editor and publisher Colin Sargent.
"This is dazzling proof that print media-if the ideas and images are seductive and stunning-is thriving. The reader gets the opportunity to stop, take a deep breath, and gain complete control of the experience…linger as long as desired over an image that sparks the imagination. We are an important component of the new media. We are the observation point-a tangible scenic outlook/rest area-on the information highway. There's a reason why other representatives of new media, including The Printed Blog and electronic media such as the Food Network and Oprah have chosen to make a print version of their products: They recognize there's no substitute for the experience of being drawn into a gorgeous magazine layout while you feel an incredible story sweep you away. The electronic world must have a beautiful front door, living room, and lounge. Portland Magazine has won 15 national design awards in the last three years; continued promoting fiction, with stars like Sebastian Junger, Sarah Graves, and Rick Moody contributing; and always provides an extraordinary perspective."
Summerguide 2009 issue features interview with Rachel Nichols, the Maine native who is lighting up the screen in this summer's blockbuster movies Star Trek and G.I. Joe: The Rise of Cobra. Portland Magazine's classic story "Dream Islands" features complete islands for sale off the smoky coast of Maine.
"We're grateful to our advertisers, who support and enhance this experience for our readers, for having the foresight to share in the benefits of connecting with them. We're also grateful to the many members of Maine's artistic community who so wonderfully express themselves here and appreciate the support of our advertisers."
"We're having fun here, and it shows," Sargent says.
•March 2007 

Portland Magazine wins national cover award for the third time! Congratulations. You've done it again! Your cover, Portland Magazine, February/March 2006, placed 1st in Category 3 – Circulation 10,000 to 74,999,in the 2006 NewsStand Resource cover contest. Your winning cover is featured in the spring 2007 issue of NewsStand Resource which will be distributed at the annual MPA Retail Conference in early March.

In addition, your winning cover (along with all winning covers placing 1,2 or 3 in all categories) is entered into the Readers' Choice Cover Contest (winners to be announced in April 2007). The top three covers will befeatured in the Summer 2007 issue of NewsStand Resource which will be distributed at the annual PBAA Convention in late June.

A formal press release will go out to the industry early next week. We will
mail your plaque and certificate with a copy of the spring issue shortly.

Sincerely,

Frances Becker
Publisher
NewsStand Resource
• March 2007 

Multiple fiction contributor John Michael Cummings, who published his first short story with Portland Magazine in 1991, is getting his debut novel published by Penguin in early 2008. The House of My Father is a modern-day, coming-of-age literary novel about a troubled boy who finds a father figure in the abolitionist John Brown. For more info about the author, visit www.johnmichaelcummings.com.